Leaked reports shame England
Official reports on England's ill-fated World Cup campaign leaked to The Times reveal a divided and indisciplined squad obsessed with money.
Last Updated: 24/11/11 8:09am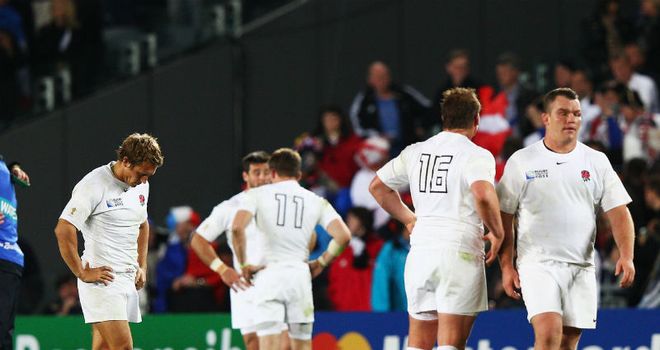 Official reports on England's ill-fated World Cup campaign leaked to The Times make for grim reading, detailing a divided and indisciplined squad obsessed with money.
England's stay in New Zealand was dominated by off-field scandals and on-field failings, before the team made an ignominious exit in a quarter-final defeat by France.
The reports are by the Rugby Football Union's director of elite rugby Rob Andrew, the players' union and the professional clubs and were not intended to be seen by the public.
The Rugby Players' Association report was based on anonymous interviews with more than 90 per cent of the players, The Times reported, and it highlighted a divide between the senior members and the rest of the squad.
It made a series of recommendations on discipline - including more accountability, a stricter regime and a clear alcohol policy.
"We had meetings where 'values' were discussed but they felt like empty words," one player said in the report, while another added: "If it's the senior players leading drinking games or drinking until they can't remember anything, what example are the younger players set?"
It concluded: "This report is not setting out to absolve the players from making mistakes, as they surely did both on and off the field.
"In a culture of honesty and success ... players need to accept their shortcomings in what has to be seen as a golden opportunity gone begging."
The entire coaching set-up came under fire in the players' report, except for scrum coach Graham Rowntree, who was praised.
Off-the-cuff
"They'd had four years to develop a plan for the World Cup and it felt like they were doing it off-the-cuff in New Zealand," one player said.
"I've never played well in an England shirt," said another. "I try my best but I know the game plan doesn't suit me and I'm not confident because I don't believe in what we're following."
The report said: "It is clear that (the England) environment is vastly different to those at their clubs where players are trusted, assured of ongoing support and have good working relationships with coaches and team mates who share a vision in how they operate and in all aspects of their professional lives. This needs to be urgently addressed."
The three reports paint a picture of broken team spirit and of some individuals more interested in making money than representing England.
One player reported hearing another, after the quarter-final loss, saying: "There's £35,000... down the toilet."
The player said: "That made me sick. Money shouldn't even come into a player's mind."
The Times quoted Rob Andrew's report as saying: "It is very disappointing that a senior group, led by the captain Lewis Moody, disputed the level of payment for the World Cup squad which led to meetings with RFU executives.
Money
"I believe this led to a further unsettling of the squad just before departure which included a threat by the squad not to attend the World Cup send-off dinner, at Twickenham. It suggested that some of the senior players were more focused on money than getting the rugby right."
The reports were never intended to be published. The Professional Game Board, which runs elite rugby in England, are due to make recommendations based on the reports' conclusions to the RFU board on November 30.
According to The Times, the Rugby Players' Association (RPA) have reportedly called for a stricter disciplinary regime within the England squad to avoid any repeat of the controversies which undermined the World Cup campaign.
Here are their five key recommendations:
Players must be accountable for their actions - no exceptions.
A much stricter regime needs to be enforced from the top down. Senior players should be treated the same as younger players. Exceptions should not be made.
A stronger message (be sent) that if you cross the line you will be punished.
A clear alcohol policy agreed.
Curfews if required.
Frustrating
Professional Game Board chairman Ian Metcalfe said: "It is disappointing and frustrating that confidential reports submitted to the PGB have been put into the public domain when all involved were promised that their views would remain private for the ultimate goal of improving the England team.
"The reporting of selective elements of those documents is also counter-productive to that aim.
"There will naturally be a wide range of views surrounding the Rugby World Cup and the PGB review was set up to take into account all feedback from all parties. There has been a clear process that has been followed which will culminate in fair and balanced recommendations to the RFU Board of Directors on November 30."
England manager Martin Johnson resigned last week and the RFU are currently in the process of finding a replacement.