Johnson hits back
Martin Johnson has launched a passionate defence of England's World Cup campaign in the wake of damning reports leaked this week.
Last Updated: 25/11/11 5:20pm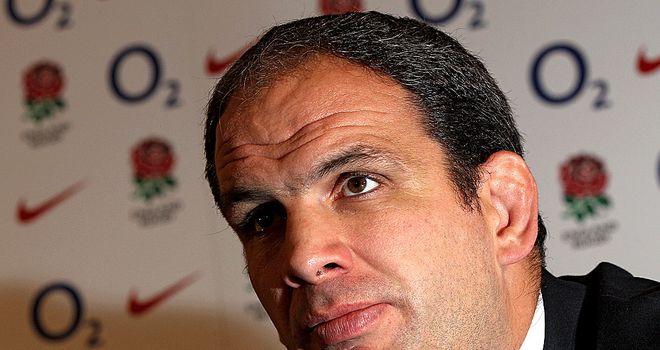 Martin Johnson has launched a passionate defence of England's World Cup campaign in the wake of leaked reports which portrayed deep divisions within the camp.
Johnson, who stood down as team manager last week, described the fall-out, which culminated in scathing criticism from unnamed players, as "one of the worst things I have experienced in the game".
The criticism surfaced in three confidential reports into England's World Cup performance which were leaked with excerpts published in The Times this week.
They have made difficult reading for Johnson but he has been compelled to speak out and insists the leaks do not represent an accurate reflection.
"Of course it is not great to see those bits. It was one of the worst things I have experienced in the game," Johnson said.
"You don't like seeing criticism of people, of yourself, of players.
"Do not take the extreme opinion written in extreme circumstances as fact.
"You are frustrated because what is being reported is not anywhere near the truth of it. From my point of view that is a fact. That is not what happened.
"The fact we have let it get to here is disappointing and the way the game and the team is now being portrayed is damaging.
"Rob (Andrew) said we were rock bottom yesterday and that is probably true. That is what is disappointing. The England team should be at the top of the game for everyone to look up to and admire and respect."
Imbalance
The reports portrayed a dysfunctional England squad, riven by a lack of trust with some players seemingly motivated more by money than ambition.
Based on anonymous quotes contained within the Rugby Players' Association report, Johnson's coaching team was considered to be out of its depth.
However, Johnson insisted the printed opinions are selective and did not represent the true culture of the squad and his management team.
"They are opinions, they are certainly not truths, written in an emotive time for everyone post a tournament," Johnson said.
"The way it has been reported, the imbalance of that report to me is one of the worst things because in that report there is obviously praise for certain parts and certain people.
"To pick out the most emotive and the worst comments is dangerous and very damaging and not a true reflection of that group.
"One of the things they did in difficult circumstances was stick together.
"Sometimes you let things go by but the way it has been reported is so inaccurate I thought I had to come here (and speak out) for the good, not only of the management group and the players but the whole game.
"The saddest thing for me is that it doesn't reflect well on the whole game right now. A lot of the players are horrified at how it has come out and how it is being reported."
Frustration
Johnson continued: "My frustration is that this is not an accurate reflection of that team, the people or the attitude and I couldn't sit here this week and let what is opinion become accepted as truth because that is not right."
England's World Cup campaign, which ended in a quarter-final defeat to France, was dogged by controversy which Johnson believes did affect the unity of the squad.
Mike Tindall was fined £25,000 and dropped from the England squad on his return home following an internal RFU investigation into a drunken night out in Queenstown. Tindall's appeal against the fine is being considered, with the verdict expected next week.
James Haskell and Chris Ashton received £5,000 suspended fines following an incident with a female member of staff in the team's Dunedin hotel, while Manu Tuilagi was fined £3,000 for jumping off a ferry into Auckland harbour the day after England's quarter-final defeat to France.
Furthermore, Tuilagi, England captain Lewis Moody and lock Courtney Lawes were all fined for wearing branded mouthguards which broke World Cup regulations.
"Certain actions by certain players did let the group down and led us to be portrayed as something we weren't and something they aren't. We didn't help that at the time so of course there were frustrations," Johnson said.
"How much that affected things on the field, it's difficult to judge. I know it probably affected certain individuals and would have had an effect on the team and eroded a little bit of trust.
"But, as a coaching group, we didn't feel it was having a huge effect on us as we went through to the final games.
"Some players were clearly frustrated early in the trip and that was dealt with.
"I spoke with them after the Queenstown incident and left them in no uncertain terms as to where I thought they were at that point and after that there wasn't an issue until the end of the tournament."
Positive
Johnson also defended his regime and was at pains to stress the positive steps taken in the last year, which included England's first Six Nations title in eight years.
"There are good things there as well," Johnson said.
"We won 10 out of 13 games. We won the Six Nations championship. (Attack coach) Brian (Smith, who resigned on Thursday) has been criticised but we scored the most tries in two of the three years he was there for the Six Nations.
"There are facts that are being papered over. There is a good group of players there with a fantastic attitude that want to be successful who are horrified about how they and the team are being portrayed.
"There is a good core group who will be ultimately stronger for this when they come out of the other side. It is pretty horrible right now."