Wilkinson backing for Lancaster
Jonny Wilkinson tells skysports.com Stuart Lancaster is the perfect man to instil the correct virtues in a new dawn for England.
By Peter Fraser - Follow me on twitter @SkySportsPeteF
Last Updated: 05/01/12 4:47pm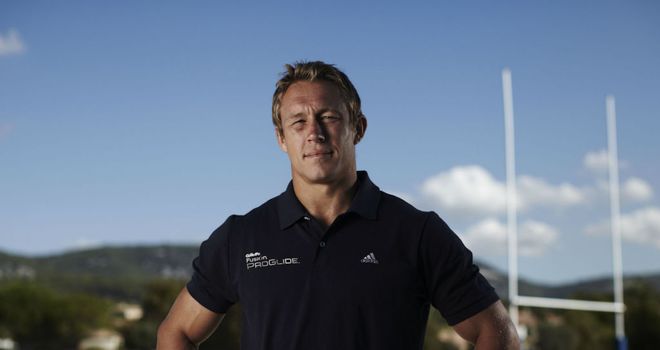 Jonny Wilkinson believes Stuart Lancaster's appreciation of rugby union's amateur era makes him the perfect man to instil the correct virtues in a new dawn for England.
Lancaster will name his Elite Player Squad on January 11 ahead of the Six Nations and he has already given indication of a new, firm stance after axing Danny Care over the scrum-half's drink-drive offence.
England are attempting to rid themselves of the memory of this autumn's World Cup debacle, having returned home from New Zealand in disgrace after on-field failures mixed with off-pitch scandals.
And Wilkinson has no doubts interim coach Lancaster is the right appointment, despite his status a relative unknown when compared to predecessor Martin Johnson, who resigned in November.
Lancaster's appreciation of the days before rugby union turned professional in 1995 will, according to England legend Wilkinson, help to develop the correct disciplines, values and motivations among the squad.
"He is very much aware of that era of guys who had just got used to getting paid to play rugby having spent their lives leaving the office to go and train and then play on a Saturday," the 2003 World Cup-winner exclusively told skysports.com of England's new leader.
Fabulous power
"Being able to then do that for money gave them an appreciation and an ability to embrace it and make the most of it. I think that added something special to it. For me, it had a massive imprint in terms of creating the values which have since stuck with me.
"These were displayed to me by the England team of that era. I think, certainly, Stuart Lancaster is very aware of the fabulous power that comes with guys who really embrace everything they get.
"They put rugby ahead of everything else and take the team up there with it. I think it is Stuart Lancaster's job to create the culture and the environment to ensure that it is something that follows."
One of Lancaster's early decisions as coach has been to scrap a winter training camp in Portugal in favour of relocating to his local club in Leeds, West Park Leeds RUFC, during late January.
And Wilkinson, who also reached the 2007 World Cup final with England, thinks his country has a lot of improvements to make ahead of the beginning of the defence of their Six Nations title.
"The next step for England is to work out where they are and work out where they want to be and quickly work out what is acceptable and what is not acceptable. What is helpful and what is not helpful with regards to achieving the bridging of that gap," he said.
Jonny Wilkinson is a Gillette ambassador - visit www.facebook.com/GilletteUK for exclusive content, competitions, and features.