Duo advise England squad
England's Six Nations squad are getting some expert advice from rugby league star Kevin Sinfield and former footballer Gary Neville.
Last Updated: 26/01/12 7:51am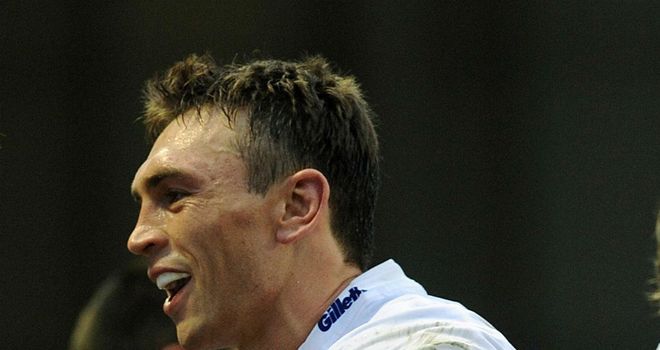 Great Britain rugby league international Kevin Sinfield switched codes on Wednesday night to address England's RBS Six Nations squad on what it takes to be the best of the best.
Leeds Rhinos star Sinfield accepted an invitation from England's interim head coach Stuart Lancaster to join the players for dinner in Leeds and take part in a question and answer session.
Following that, the former Manchester United defender Gary Neville will meet England's young squad on Thursday night to talk about the pride they should feel in representing their country.
Lancaster is working to reform the culture within the England squad following last year's failed World Cup campaign, which was dogged by off-field controversies.
Sinfield believes the young squad Lancaster has selected can lead England into a bright future.
"I have been part of a question and answer session talking about leadership and what makes a successful team," said Sinfield, who has won the Super League five times with Leeds Rhinos.
"There are a lot of young guys in the squad now. They set the culture and set the standard for years to come.
"They have big plans for the World Cup in 2015. I like what Stuart is doing with the group. They have set some really good goals going into the Six Nations.
"Culture is everything. If you have good people in who set high standards that changes behaviour and belief. It's what you do when the curtains are closed or nobody is watching that really makes the difference.
Fallen short
"Unfortunately we have fallen short in the last couple of years. The World Cup was an unfortunate set of results and circumstances but this group can learn from that, tinker with the culture a little bit and come out of it a lot stronger and push towards 2015."
Neville's message to the England squad will be: Don't waste your opportunity like we did.
The former Manchester United full-back won 85 caps but retired with a sense of disappointment that England had under-achieved during his era.
"Speaking to him, Gary Neville was frustrated because he never felt he achieved with England what he wanted to achieve," Lancaster said.
"He wants to help the players understand (what is possible) when you get it right, when you are playing for your country and the nation is behind you. When I asked if he would do it, he said it would be an honour.
"That is what I have been trying to say to the players. I probably see it more because I have come from the grass-roots game and I have seen what impact becoming an international coach has had on people around me.
"I am trying to remind the players of the pride and the honour and the standing of being an international rugby union player in this country. It is massive."