Youngs out to prove himself
Ben Youngs accepts his loss of form has left him in danger of being dropped by England for the first time in his career.
Last Updated: 17/02/12 11:23am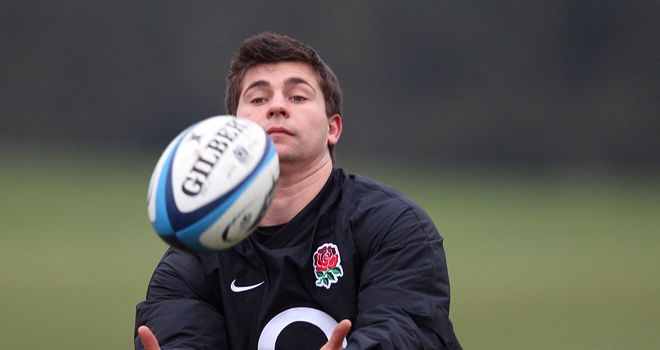 Ben Youngs admits that a frustrating loss of form could see him lose his starting spot as England's scrum-half for the first time in his career.
The Leicester man has been England's first-choice since he exploded onto the Test scene with a try on his full debut against Australia in Sydney, but he has not been at his best of late.
Youngs was rushed back early from a knee injury to play at the World Cup and seems to have lost that spark.
The 22-year-old has stopped playing on instinct and he turned in scratchy performances in England's wins against Scotland and Italy.
In contrast, Lee Dickson has made his mark off the bench in both matches and the Northampton scrum-half is under consideration for a first England start against Wales on February 25.
Natural
"I probably play best when I play what I see and just go with it, and perhaps I haven't been doing that," Youngs said. "I've been trying to force things and trying too hard when it's best for me to relax and just let the game flow. Hopefully my natural game will then take over.
"I've spoken to quite a few people, and I need to go back to doing what I do and not over-think things.
"I can only work hard and it's up to the coaches what they do. Whatever decision they make, I'll do what's best for the team and crack on."
Youngs snatched his jacket from a member of the England backroom staff when he was hauled off after 50 minutes against Italy, but he insists it was due to a frustration in his own performance.
"The match didn't go as well as I would have liked," he said. "I was frustrated at myself. The game was breaking up, which is what I enjoy. I was annoyed that if I'd got things right in the first half that maybe it would have been different.
"But I didn't and it wasn't."
Positive
But Youngs is determined to respond to the adversity in a positive fashion, and to tackle the problem head on and get back to his electric best.
"You almost need these things to happen. You need to make mistakes to understand why it happens," he said. "Nobody likes it but the truth is that it's going to happen and it's how you deal with that.
"I'm a big believer in learning from making mistakes. It is never nice doing it - but sometimes it's a wake-up call."
Youngs has talked things through with Toby Flood, his Leicester and England half-back partner, and a little with his father, Nick, who won six Test caps in 1983-84.
But he has also turned to DVDs of those performances against Australia as a confidence booster, a reminder of what he can achieve.
"Self-belief is the biggest thing. You need to reinforce the times it's gone well, realise it's not all doom and gloom," Youngs said.