Farrell 'excited' by England
Owen Farrell has rejected claims that England are a negative side whose priority is to avoid conceding points.
Last Updated: 07/03/12 7:24pm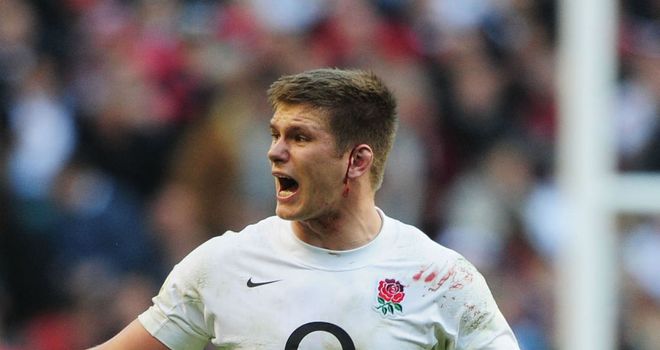 Owen Farrell has rejected claims that England are a negative side whose priority is to avoid conceding points.
Leicester head coach Matt O'Connor commented that England are negative and take the field simply "trying not to lose".
O'Connor is disappointed that Toby Flood and Ben Youngs have fallen out of favour with England's interim coach Stuart Lancaster, claiming Lancaster's management team are not interested in creative players and that England are wasting their best attacking threats.
But Farrell insisted England's new-look side proved against World Cup semi-finalists Wales that they are prepared to take on the best in the world.
"He is entitled to his own opinion. We have our own views. We are excited about the way we are playing at the minute," Farrell said.
"The way we played against Wales was a massive step in the right direction for us and we all thought that.
"It was still disappointing to lose a game when we created quite a few chances but we are massively excited about the way we are going and I hope we can build on that.
Mindset
"I don't see how else you go into a rugby game (but trying to win it). I don't think I have ever had a mindset to just avoid defeat otherwise you don't play how you want to do.
"The way we played the game against Wales the other week proved that."
England struggled to showcase Lancaster's attacking gameplan as they battled to away wins against Scotland and Italy, with Charlie Hodgson scoring a charge-down try in each game.
But with Hodgson absent and Farrell impressive at fly-half, England turned in a more encouraging offensive performance in their 19-12 defeat to Wales two weekends ago.
"We have got brilliant players all over the field and we are using them right at the minute, we just need to finish our chances," Farrell added.
"We are going in the right direction. It is coming. There is a structure in place but it is a structure which allows you to be yourself and play the way you play.
"We have got massive belief in what we are trying to do. Every game we have got better as a team."
Trio released
Meanwhile, Lancaster has released three more players from the camp to leave him with a final 24-man party that will travel to France.
Jordan Turner-Hall, Charlie Sharples and Joe Launchbury have been allowed to return to their respective clubs, leaving the interim boss just to confirm his matchday 22 on Friday.
Back-up scrum-half Karl Dickson and prop Joe Marler both remain with the squad as extra cover for their specialist positions.