Foden to prove his worth
Ben Foden admits he will always be indebted to Philippe Saint-Andre for spotting his potential as an international full-back.
Last Updated: 09/03/12 5:34pm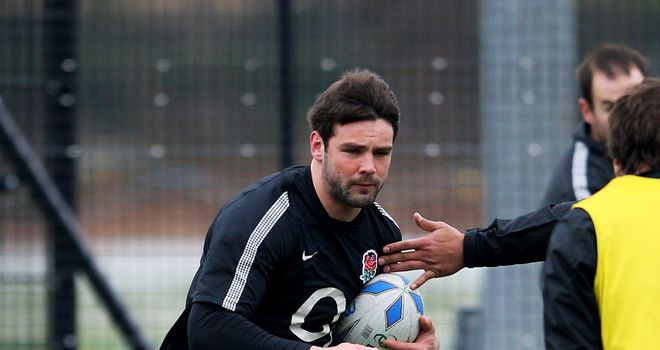 Ben Foden admits he will always be indebted to France coach Philippe Saint-Andre for spotting his potential as an international full-back and now hopes to get one over his former boss when the two nations clash in Paris on Sunday.
Foden was a promising scrum-half for Sale when he filled in at full-back in a Possibles v Probables pre-season match, catching Saint-Andre's eye and playing a handful of Premiership games in the No.15 jersey.
Unconvinced by Saint-Andre's advice, Foden left Sale for Northampton the following summer and was determined to pursue a career as a scrum-half.
But it turned out Saint-Andre was right. Foden eventually settled on full-back and he has been England's first-choice for the last two seasons.
Potential
"I saw Philippe at a golf event after I had broken into the England team and the first thing he said to me was 'I told you so'," Foden said.
"Philippe talked to me when I went to Northampton and said I had massive potential to be a full-back. I'm very grateful in that he spotted my potential.
"I'll always be indebted to him for that. I look forward to seeing him and we'll have a chin-wag after the game.
"I am sure he will test me out nice and early!"
Foden has been disappointed with his performances for England so far this Six Nations and, with Saint-Andre watching on, there will be no better occasion to prove what he can do as a Test full-back.
"I need a big performance because I don't think I have been that great in this competition so far and I have lot more to give," Foden said.
"I feel I am ready for a big game."
Foden made his first Test start against France in Paris two years ago, scoring a try in an England performance of real attacking purpose.
But Foden most recent memory of playing Les Bleus is of last autumn's painful 19-12 Rugby World Cup quarter-final defeat in Auckland.
Promise
Foden is one of only five players still in England's starting line-up and there are some scores to settle.
"That is a memory that will last a long time for me," Foden said.
"It is in the heads of those who were involved. we had hopes and promise leading into the Word Cup and France weren't running the hottest when we faced them.
"Everyone thought they were there for the taking but we didn't step up to the mark. It is a constant reminder of what it takes to beat these sides.
"We played well against Wales (two weekends ago) but it wasn't quite good enough and we left a few opportunities out on the field.
"We need to take that confidence and belief we can go there and turn them over."