Johnson to take his chance
Exeter flanker Tom Johnson is eager to impress on his England debut against South Africa after taking an alternative route to the top.
Last Updated: 08/06/12 3:55pm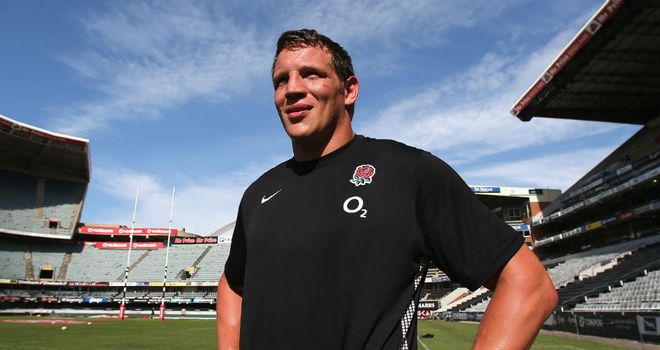 Tom Johnson intends to make the most of his chance with England after taking a different route to the top.
The Exeter flanker will make his debut on Saturday against South Africa in Durban at the age of 29, becoming the Devon club's first England player since 1964.
Johnson has impressed for the Chiefs after coming through the lower leagues, including playing for both Reading and Coventry earning him a call-up due to the absences of fellow back-rowers Tom Croft and Tom Wood.
"They (Croft and Wood) are very good players in their own right, but I am slightly different to them and I have got a chance to try and make an impression, go and enjoy it and give it my all," he said. "Then I can hold my head up high.
"One thing I haven't got is too much mileage in the tank.
"I didn't do the academy route where they do two weight sessions a day and their body gets used to the big loads.
"I have done the lower leagues, men's rugby and it seems to have paid off for me."
Services
Johnson might even have been lost to the game had he opted to follow his father and grandfather, who both had distinguished careers in the RAF, and his brother, who is in the Army, into the services.
He added: "I remember when I was deciding to go to rugby or the Army - the Paras - and in their interview they said, 'Do you think you would make a professional rugby player?'
"I said I probably wouldn't, and the Army was probably more realistic. But here I am. That was when I was 22 - seven years ago.
"I was playing for Reading at the time and had a decent season and got a letter from Coventry, (saying) please come and meet us.
"I went up there and they offered me a one-year contract.
"I thought I should give this a go for a year otherwise I would probably regret it. I got another year then went down to Exeter."
His rise since then matches that of Exeter, who were promoted to the Aviva Premiership for the first time two years ago and have just ended their second season in the top flight in fifth place.
On his club, Johnson said: "They are a hard-working bunch of boys.
"Coaches have to take a lot of credit for what they have instilled in us - the detail, the minor things that make the game-piece together.
"When you add them all up you tend to get a decent game out if it.
"Rob Baxter (Exeter head coach) has texted me and he was one of the first people I told. He said it was well deserved and just told me to go out and try and enjoy it."