Gunners look lifts Robshaw
Arsenal supporter Chris Robshaw is a fan of England's new change strip as it reminds him of a kit once worn by his beloved Gunners.
Last Updated: 19/09/12 3:29pm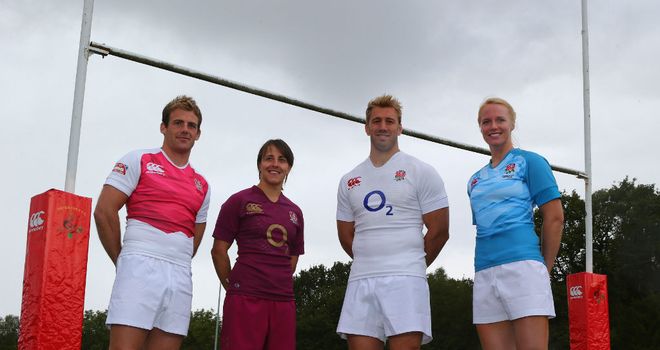 Arsenal supporter Chris Robshaw admits he is a fan of England's new deep red change strip as it reminds him of a kit once worn by his beloved Gunners.
Arsenal opted for redcurrant strip in the 2005-06 season to mark their last campaign at Highbury before moving to the Emirates Stadium.
England will debut their own version - officially dubbed "regal purple" with gold detailing - in the QBE autumn international against Australia at Twickenham on November 17.
"The colour schemes are quite similar and being an Arsenal fan I don't really mind that," stated Robshaw, the England and Harlequins captain. "It's brilliant!
"It is a month or so before we meet up again with England and you are getting quite excited about the prospect of the teams we are going to play.
"It is exciting to have a new kit and new sponsors."
Robshaw also paraded England's more traditional new white home kit, which includes the return of navy socks for the first time since 2007.
The new-look battle gear was designed by Canterbury, who have replaced Nike as England's kit manufacturer after striking a four-year deal with the Rugby Football Union reportedly worth £20million.
The England Sevens team will compete in the HSBC World Series in two new radical kits - one in sky blue and the other red with white sleeves which also bears an Arsenal resemblance.
All England shirts, for the men's, women's and Sevens teams, are emblazoned with the slogan ENGLANDCONNECTED.
Request from Lancaster
England head coach Stuart Lancaster requested Canterbury design one piece of kit that would be exclusive to senior elite players to "represent the pride that comes from representing their country".
As a result, Robshaw and his squad will don a "regal purple" presentation jacket for the anthems, as worn by England players during the 1970s, 1980s and early 90s.
The change kit is England's fifth since the 2007 Rugby World Cup, following red, purple, anthracite and the controversial all black strip worn at last year's tournament.
The new Arsenal-style strip was designed with the aim of "reinforcing England's position as a member of rugby royalty".
The Canterbury shirts are also said to be unrippable, although Robshaw expects Manu Tuilagi to have a good go at proving that claim wrong.
"I am sure we will have the challenge to try and rip the neck and I don't think it has been done. Scotland and the South Africa boys have tried and I think Manu Tuilagi will have a good go at it," Robshaw said.
The kits were launched at Drybrook Rugby Club in Gloucestershire as part of England's determined bid to stay connected with rugby's grass-roots communities.
The campaign has been titled 'England Is All' and the players photographs were taken by world renowned photographer David Bailey.
Sophie Goldschmidt, RFU chief commercial officer, said: "We want to put clubs at the heart of the game, which is why for the first time we are launching the new kit at a grassroots rugby club.
"Drybrook was selected by demonstrating what rugby means to their community."