Gold Goast Sevens: England fail to reach Cup quarter-finals after defeat to Samoa
England missed out on the Cup quarter-finals of the Gold Goast Sevens after a 19-17 defeat to Samoa on the opening day.
Last Updated: 13/10/12 3:27pm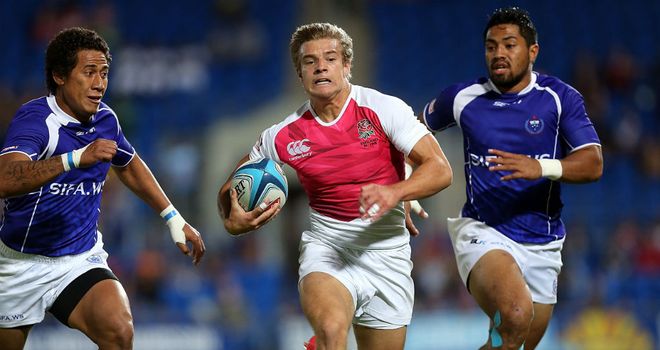 They had earlier drawn 14-14 with Kenya and beaten Spain 13-10 in the group stages of the HSBC Sevens World Series event, but the loss to Samoa prevented them from reaching the last eight.
Two tries from Tom Mitchell gave England a 12-0 lead, but Samoa hit back as Faalemiga Selesele and Afa Aiono both went for Samoa, who edged into a two-point lead after converting both scores.
Dan Norton then scored England's third try but Christian Lewis-Pratt was off target with the conversion, something which proved decisive when Lio Lolo went over for what proved to be Samoa's winning score.
A late try from Jeff Williams had earlier secured the victory over Spain while a 14-0 lead, brought about by early tries from Norton and Chris Brightwell, was squandered against Kenya.
England now go into the second-tier Bowl draw for the second day, where they will face Scotland in the quarter-finals.
"We came in with high expectations and we haven't quite delivered today but we know we've got more to give and we'll back to prove a point and get some sort of silverware," Mitchell told the RFU's official website.
"We've had a really good pre-season, everything coming into the tournament was good. We came with a great squad but we'll have to look at it and see what went wrong. Whoever we play we'll stick to our game plan and come out firing and do our best."
They will be favoured to progress in the Bowl competition against Scotland, who lost all three of their Pool B matches by wide margins.
Wales also had to settle for a Bowl berth as they were edged out 17-5 by Argentina following victories over Portugal and France in Pool D.
Argentina, France and Wales all finished on seven points but the latter team missed out on Cup quarters due to points difference.