Backing our boys
Will Greenwood is excited about England's squad and says they can win three of their autumn games.
Last Updated: 25/10/12 6:16pm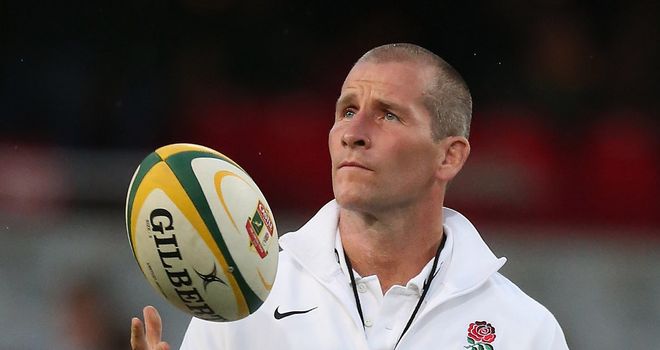 Will Greenwood is excited about the England squad and believes they can win three of their four games in the autumn.
Stuart Lancaster's side will take on Fiji on November 10, followed by Australia, South Africa and New Zealand in a tough autumn international series at Twickenham.
Saracens prop Mako Vunipola is the headline name in the squad and Sky Sports expert Greenwood is excited by his inclusion.
"Vunipola is an outstanding player," he said on Sky Sports News.
"The coaching staff at Saracens who work with him, all speak highly of him. He is a tremendous ball carrier - all pre-season they have been saying watch out for this kid, he is coming and is going to take the rugby world by storm. He is doing exceptionally well.
"He is solid in the set piece but he is ahead of other players in his position in terms of his abilities with the ball in hand.
"As Stuart Lancaster looks to add a bit of dynamism to the squad someone like Vunipola fits the bill very well indeed.
"You have this stereotypical image of a rugby front row being 5ft 10in, 23 stones, eating pies and bending over and pushing. That has all changed and hooker Tom Youngs is another one of these players who is looking to come into the squad and add mobility.
"England can defend and are very good at the set-piece but what they need to improve is their attacking performances - Mike Catt has been brought in as attacks coach and you can see the sort of squad he is picking is one to go and play rugby and to get people back on their feet and to be excited about being an English fan."
Lacking experience?
Greenwood, who helped England to World Cup glory in 2003, says that while England have an eye on the World Cup in 2015, he feels that some older players could have offered England a little bit more.
And he argued that the likes of Nick Easter would have been a useful inclusion for the forthcoming matches.
"Lancaster has made it very clear that he is going to pick players who have a role to play in 2015 - hence the omission of a player like Nick Easter who is just in outstanding form for Harlequins.
"He is seen as surplus to requirements for England though because of the age bracket. I think that is a bit of an error - I would have Easter in my squad.
"Someone else who may fit into that mould would be Charlie Hodgson who has retired from international rugby but his form at the moment makes him an outside bet to go on the Lions tour next summer.
"There is no doubt that Stuart Lancaster has set out his stall - his focus is on winning games in the short term but the rugby world is now defined on how well you do in the World Cup so you can never take an eye of that ball."
Robshaw or Hartley?
Lancaster has yet to announce if Chris Robshaw will continue in the role of England captain with Dylan Hartley - who took over in South Africa when Robshaw was injured - also in the mix.
Greenwood believes that Robshaw should keep the captain's armband but says there is no rush to make the announcement
"Robshaw should be the England captain," added Greenwood.
"Lancaster does not want to make himself a hostage to fortune as far as injuries go. We have some huge games coming up - Harlequins against London Irish and Dylan Hartley at home to Saracens.
"Rugby is such a physical sport - what happens if he makes Hartley skipper out of the blue? Robshaw is slightly disappointed; there are some murmurs within the squad. Four days later because of the nature of club rugby, Dylan Hartley is injured and then it is back to Robshaw.
"So there is just no need to announce it now - it does not say anything. These kids are all together ready to take on the world this autumn. It makes no difference to these players when the naming of the captain is announced."
Predictions
Greenwood is also confident that England can give a good showing come the autumn and can win three out of the four games.
"Fiji are an outstanding side in terms of their ball-carrying capability and always score a lot of tries in World Cups. They always produce outstanding backs but sometimes their scrums and lineouts cannot be up to the organisation and efficiency of other international teams.
"I think this is a great opportunity for England to have a game before the others come to town - number one, two and three in the world rankings.
"Fiji is a win. Australia? Well I had absolutely all my milk money on England beating them. Then they came back and were brilliant in Argentina and excellent to draw against the All Blacks. I still think England will have enough to beat Australia at Twickenham though.
"Let's skip forward to the All Blacks and while the England players will view they can win this I just think the All Blacks are a very special side.
"It is either two out of four or three out of four depending on the South African game - it was a 14-14 draw in the third Test in the summer, so I will back our boys and I will hope for three wins out of four."