Geoff Parling insists England cannot underestimate Fiji at Twickenham
Geoff Parling believes England will be in for a nasty surprise if they take Fiji lightly at Twickenham on Saturday.
By @SkySportsDrabs
Last Updated: 05/11/12 1:13pm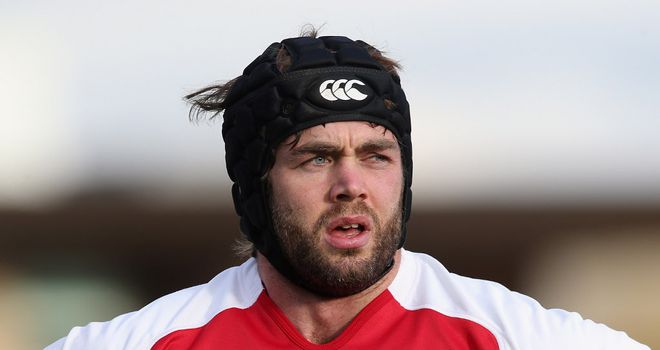 Stuart Lancaster's men opening their autumn campaign against the Pacific Islanders at Twickenham on Saturday before hosting Super Rugby heavyweights Australia, South Africa and New Zealand in successive weekends - all live on Sky Sports.
Line-out specialist Parling, who has won eight caps to-date, is expected to retain his place in the England pack for the duration of the autumn and was quick to stress the importance of hitting the ground running against Fiji.
Speaking exclusively to Sky Sports, Parling said: "We've got four back-to-back really tough games at Twickenham, as a whole squad we're really looking forward to it.
"Playing Fiji is never going to be easy, anyone that has played with or against any Fijians - we've got one at Leicester in Niki Goneva - they are the kind of players who are going to create something out of nothing so we appreciate that it's going to be a really hard game.
"You can't take anyone lightly. If you going into the game against Fiji with that mindset then we could be surprised.
"We have got to go into it with the mindset that this is an international game at home - we no less about these guys so it's harder to prepare. They are unpredictable and we won't be taking them lightly that's for sure."
Parling, 25, started all three of England's summer internationals against South Africa, who arrive at HQ on November 24 after matches in Ireland and Scotland.
The Leicester forward admits he is relishing a reunion with the likes of Juandre Kruger and Eben Etzebeth and insists revenge is firmly on the agenda after England's recent 2-0 reverse to the Springboks.
"That series out there, while it was enjoyable to play in, it does grind on us as a squad that we did lose 2-0," Parling added.
"A lot of people can say that we got some good things out of it and we performed well in patches, and we did to get a draw (in the third Test), but we have got to turn those experiences and show we have learnt - it's about winning as a squad now."
Massive test
England end their autumn series against world champions New Zealand, who are attempting to go through the entire 2012 calendar year unbeaten.
The All Blacks have won 16 and drawn one of their last 17 matches and Parling admits the December 1 showdown will be a "massive test".
He added: "They are the No.1 team in the world at the moment because of what they did at the World Cup and how consistent they have been after that.
"What marks out a good team is being consistently good and nicking wins when they feel they are not playing well. That is a massive test."
England confirmed what most predicted last week by appointing Chris Robshaw as captain for the upcoming internationals.
And Parling believes the Harlequins flanker is the perfect man for the job.
"He leads by example. He's not a screamy, shouty sort of captain but he's very composed, he likes to talk through different scenarios," he said.
"He leads by example on the pitch and most importantly he's a really good bloke who's really well respected."
O2 Inside Line - the behind-the-scenes show from inside the England camp - re-launches on November 8th. To receive email alerts on each show, visit www.O2InsideLine.com