Flanker Steffon Armitage believes move to France has revitalised his career
Toulon flanker Steffon Armitage remains hopeful he will get the chance to play for England again in the near future.
Last Updated: 20/11/12 5:42am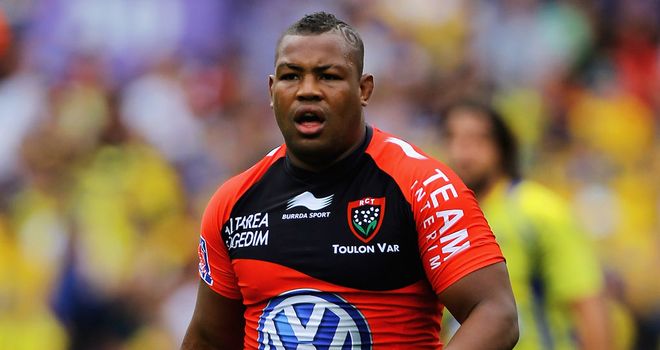 The flanker finds himself out of Stuart Lancaster's plans at the moment due to the fact he plays for Toulon in the Top 14 competition in France.
He would not be available for England training camps or Test matches outside of the international window, meaning he would miss the upcoming clash with New Zealand on December 1 without special dispensation from his employers.
However the former London Irish forward is optimistic a compromise can be reached in the near future so he can add to his tally of five international caps.
"I am always hoping and I will keep hoping in the future that I do get another chance with England," he said.
"I hope there is a possibility there can be some negotiation (between England and Toulon) further down the line.
"I will do anything to play again for England. At the moment Toulon's where everything lies."
Asked if he would like England to try to come to arrangement with his current employers, Armitage added: "100 per cent yes. It is a big honour to put on the red rose."
Revitalised
Armitage last appeared for England off the bench against Italy in 2010 and had fallen out of favour with then national team coach Martin Johnson when he moved to Toulon 18 months ago.
The switch has revitalised his career to such an extent that he has been awarded the prestigious Midi Olympique 'Oscar' for the best overseas player in the French domestic league.
"I knew what the risk was coming to France but I thought it would help my career more. I thought I needed that extra boost, to get back that feeling of always wanting more," he added.
"I didn't think I could get that from staying at Irish.
"I knew it was going to be quite tough to come in and secure a starting place week in and week out.
"Toulon have players like Joe Van Niekerk and Juan Martin Fernandez Lobbe, a lot of international players.
"I knew it was going to be hard but maybe because of them I am playing better.
"I have matured a lot in the game. In the past I didn't always make the right decisions on the pitch. I am learning to be in the right place at the right time."