England Women name line-up for series opener against New Zealand
England will see the return of several experienced players for their series opener against world champions New Zealand.
Last Updated: 20/11/12 1:42pm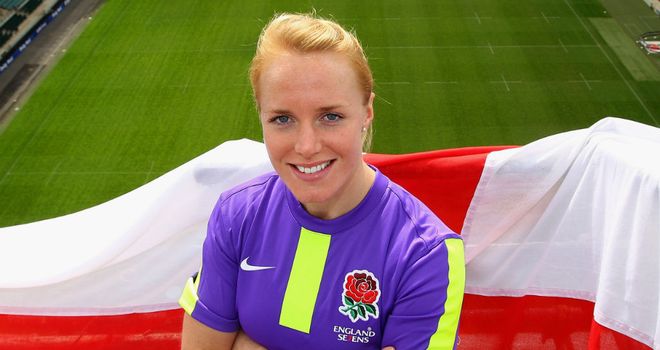 Michaela Staniford, Katherine Merchant, Marlie Packer and Emily Scarratt have all been named in the starting line-up for the match at Esher RFC.
Having been rested for England's 23-13 victory over France earlier this month, there will now be a solid backline, including the experienced pair of Danielle Waterman and Alice Richardson.
The side will be led by Darlington Mowden Park Sharks fly-half Katy McLean and vice-captain Sarah Hunter.
England are also set to play the Black Ferns on November 27th at Aldershot Army Rugby Stadium and then on December 1st at Twickenham Stadium.
Head coach Gary Street said: "We have got three tough games to get through over the next eight days and I have got to put out a strong side for each occasion and that is what I am doing from the outset. It's great to be able to welcome back some seasoned campaigners who I think are world-class players. We made the decision to rest certain squad members against France so I expect them to now come back into the fold and bring pace, power and energy to the team."
Rochelle Clark will lead a talented front-row and Tamara Taylor and Rowena Burnfield are due to start in the second-row. The backrow will be made up of Packer, Heather Fisher and Sarah Hunter.
Experience
Street added: "The great thing about the England programme is that we have got great strength and depth in our squad now and you can see that from our bench. For us it is invaluable when you are taking on a side as good as New Zealand that you can bring on players with this sort of experience."
It was a year ago that England last played New Zealand with England coming back from their 2010 World Cup heartache to defeat the Black Ferns twice. The two sides then drew the final clash.
"Playing New Zealand over this series last year was definitely the highlight of our season," Street added. "To try and be the best we have to play the best regularly, and even though we think we have moved on as a squad from 12 months ago, we know that the Black Ferns will be more motivated than ever to come over here and reverse that result."
England: 15 Danielle Waterman, 14 Katherine Merchant, 13 Emily Scarratt, 12 Alice Richardson, 11 Michaela Staniford, 10 Katy McLean (C), 9 Natasha Hunt, 8 Sarah Hunter, 7 Marlie Packer, 6 Heather Fisher, 5 Rowena Burnfield, 4 Tamara Taylor, 3 Laura Keates, 2 Victoria Fleetwood, 1 Rochelle Clark.
Replacements: 16 Emma Croker, 17 Rosemarie Crowley, 18 Sophie Hemming, 19 Emily Braund, 20 Alexandra Matthews, 21 Georgina Gulliver, 22 Francesca Matthews, 23 Joanne Watmore.