James Rodwell hopes England can defend their Dubai Sevens title
James Rodwell is aiming to complete a treble of Dubai Sevens titles in the desert this weekend.
Last Updated: 29/11/12 10:57am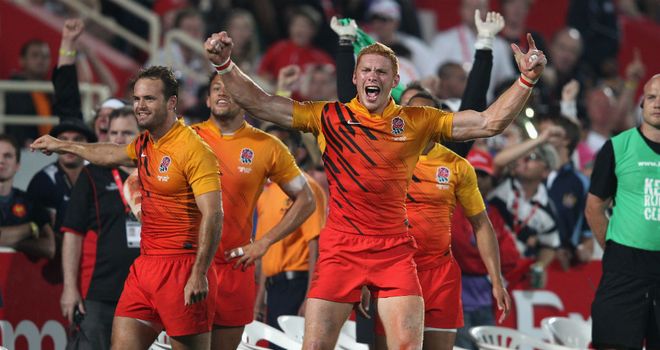 His team-mates Tom Powell and Dan Norton are also hoping to mirror his success, having already lifted titles in 2010 and 2011 - beating Samoa and France in back-to-back finals.
This season's HSBC Sevens World Series started with England missing out on the quarter-finals on the Gold Coast in October.
But Rodwell, who was named 2010 IRB player of the tournament, expects his side to tighten up in defence in Friday's Pool C matches against South Africa, Samoa and Portugal.
James Lightfoot-Brown and Ollie Marchon are set to make their debuts while Dan Bibby has two tournaments under his belt from last season. England have also called up 2009 World Player of the Year Ollie Phillips.
"We spent a good week analysing the Gold Coast, seeing what went wrong, why we didn't perform, and there's a big focus on our defence for this tournament," said Rodwell.
"We know our attack is good; we just need the ball to show other teams what we can do and that comes from good defence to get it back."
England lost experienced forward Chris Cracknell (knee) and last season's leading try-scorer Mat Turner (ankle) to injury suffered in Queensland with playmaker Christian Lewis-Pratt (ankle) hurt in the Dubai build-up.
"We've got a really exciting squad for this weekend with some new faces and some old ones as well," added Rodwell.
"My new room-mate James Lightfoot-Brown has got some incredible feet on him. Ollie Marchon the other new cap is a really direct player, he's going to add a lot of impetus to the forwards; he runs really hard. We've also got Ollie Phillips - the old master - coming back giving a good bit of experience to the boys."