Samoa win Dubai Sevens while England and Wales take consolation prizes
Samoa defeated New Zealand 26-15 to win the Dubai Sevens, while England had to settle for the Shield trophy.
Last Updated: 01/12/12 6:36pm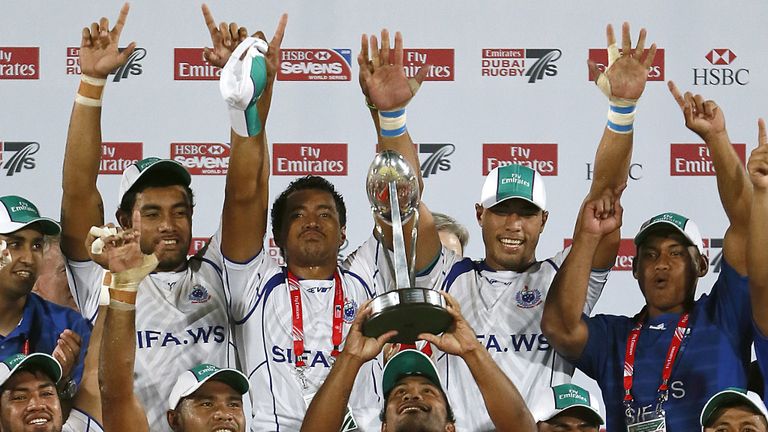 Wales were knocked out of overall contention in the quarter-finals by the eventual winners but went on to salvage some pride by winning the second-tier Plate trophy.
After defeating Wales in the last eight, Samoa went on to see off France in the semi-finals before downing the reigning IRB Sevens World Series champions in the main event.
Paul Perez grabbed two tries in the final while Lio Lolo and Tulolo Tulolo also crossed for the Pacific Islanders, with DJ Forbes, Ben Lam and Kurt Baker scoring for New Zealand, who missed all of their conversions.
England, who won the Dubai Sevens last year, were beaten by Argentina in the Bowl quarter-finals, bumping them into the lowest level of the competition.
But they did hit back with wins over Australia and Spain, the former by a margin of 40-12, to end the two-day event with a consolation prize.
"I'm pleased with the Australia result - it's the first time we've beaten them by 40 points, I think - and it was good to beat Spain after going out against them in the last tournament," England head coach Ben Ryan told the RFU's official website.
"We're stretched. It happens. Almost 40 per cent of our squad injured and that accelerates the learning of everyone else. You can look at it as a glass half full. They started to front up in the last couple of games."
Wales defeated Fiji and Canada after the loss to Samoa to claim the Plate honours, while Scotland were knocked out in the semi-finals of the Bowl competition.