Francis Baron says Wales have no chance of hosting England in 2015
Former RFU chief Francis Baron insists England will play Wales on home turf at the 2015 Rugby World Cup.
Last Updated: 06/12/12 12:30pm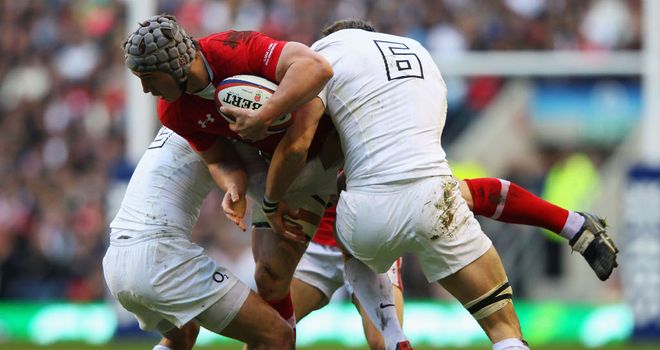 The Welsh Rugby Union has offered to host the World Cup showdown at Cardiff's Millennium Stadium.
Current RFU chief executive Ian Ritchie has already dismissed the offer, and Baron said that as the Welsh are not sharing any of the financial risk for the tournament, they will not be hosting the actual tournament hosts.
"(WRU chief) Roger Lewis is being very cheeky really, and I don't blame him for trying it on," Baron told The Daily Telegraph.
"But I made it very clear in my negotiations with the Welsh union, and Roger in particular, that because they wouldn't bear any of the financial risk of the tournament all of England's matches would be played in England, irrespective of who we were playing and that included Wales.
"The RFU has guaranteed £80million to the IRB to host this tournament and that is a big, big commitment and therefore England have to decide where all the big matches are played to make sure they can deliver on that massive financial guarantee.
"Wales have no risk whatsoever, so it is not appropriate that they should have any say in where the matches should be played."
The bid document includes the Millennium Stadium as a host stadium, and Wales may host as many of eight games - but not necessarily Wales games. Baron says that decision to include the stadium was made because without the 72,500-capacity stadium it will be difficult to meet the ticket sales target of 2.9 million.
"I remember when we were putting the bid together, the other unions were pretty insistent that if Wales got any matches as part of England's bid, they shouldn't benefit in terms of getting easy home draws out of it," Baron said.
"I think there will be a lot of debate within the IRB that Wales should not have any pool matches at the Millennium Stadium and I am sure that Australia will be arguing that very strongly.
"They will accept that they have got to play England at Twickenham because we are the hosts, but I think they will be pretty angry that they will then have to play Wales at the Millennium Stadium."
Don't miss any live and exclusive rugby union coverage this festive season. Click here to visit Sky Sports' Festive Calendar