England fly-half Owen Farrell insists England are in a better position than 12 months ago
Owen Farrell claims England have hit the ground running in their preparations ahead of the RBS Six Nations.
By Tony Curtis - Follow me on Twitter @SkysportsTC
Last Updated: 25/01/13 10:14pm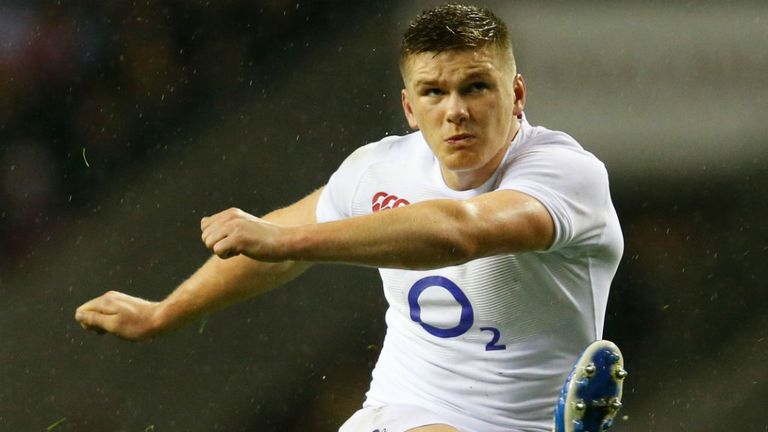 Farrell was one of seven players that made their England debuts in last year's Calcutta Cup match - with the 21-year-old fly-half going on to kick two penalties and a conversion in the 13-6 victory.
It was the perfect start to a brave new dawn for England rugby - with coach Stuart Lancaster having made wholesale changes to the set-up, on and off the pitch.
England would end up finishing second in the championship - with the side also winning in Italy and France, while Ireland were dismantled at Twickenham. Only the eventual Grand Slam winners Wales would beat them in the tournament.
Now 12 months on - and with a win over the world champion All Blacks under their belts - Farrell claims England are in a much better position.
"As a group we feel like we have the ground running this week," said Farrell.
"Last year it was almost like starting from scratch, learning basic calls and getting to know each other and so on.
"I feel like this year we know each other, everybody gets along well and we have a great set of lads that are willing to out there and put their bodies on the line for each other."
Challenges
England's displays under Lancaster over the past 12 months - including finishing as runners-up to Wales last year and thumping New Zealand 38-21 - means that the pressure will be on for them to claim a first Grand Slam in 10 years.
However, Farrell insists the squad cannot afford to look too far ahead.
"It does not matter if there are expectations on us or not, we are only looking at each of the challenges," he said.
"The first challenge is Scotland, so we have got to put all our attention on that. Then the week after the challenge will be Ireland, so we will look at that and do the same. That is how we've got to do it, we've got to take it step by step."
There has been little to choose between England and Scotland over recent years - with an average of just over four points separating them in the past four encounters.
However Farrell, who has landed 109 points in 12 Tests, insists he feels no extra pressure to kick England to glory in a tight contest.
"As kicker you just prepare the best that you can," he said. "It is just another kick when you are out there. If it goes well, it goes well; if it doesn't then you move on as there is always the next kick. You just concentrate on the now."