Chris Ashton is hoping to become England's all-time leading try scorer
England wing Chris Ashton is aiming high ahead of Sunday's Six Nations showdown with Ireland in Dublin.
Last Updated: 10/02/13 2:28pm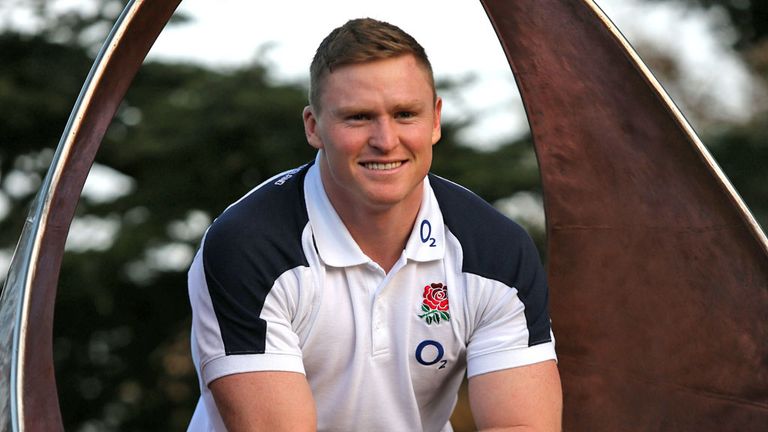 The Saracens star opened his account for the campaign in last weekend's opening 38-18 victory over Scotland with a close-range score - breaking into the top 10 England try-scorers of all time in the process.
Ashton, 25, is hopeful he can one day displace legendary wing Rory Underwood at the top of the list by beating his tally of 49 tries from 85 Tests.
He said: "It is an honour to be on that list with them all. I hope to be on top of it one day and then sit back and reflect on it - but not now.
"I am only 25. I have been here for three years and hopefully I will be here for a lot longer.
"I am happy to score. It is part of my job title. It was difficult to go so many games without scoring and hopefully that won't happen again.
"There is a bit of a mindset change. I feel more confident in it and just being in a team with people who put you in the right places and give you the opportunities gives you confidence."
When quizzed on the 2009 trip to face the Irish, when England were denied a Grand Slam, Ashton added: "The celebrations (of winning the Six Nations) were a bit flat. It was not the way you want to win it.
"There was a lot of pressure on us going into it - we had never been there before so we didn't really know what to expect and then it just went wrong from the start.
"We have not used that game at all (in our preparations). It was a pretty bad day for us and it is completely different here now to what it was then.
"We are a lot different to the way we were then. We had a good tournament that time but now it just feels different.
"The team feels a lot closer together and everyone knows what we are aiming for and the direction we are going. The culture and the attitude is completely different.
"We have never been beaten like that since these coaches have been together. We have taken a step forward. If we win this weekend can we never talk about that game again?"