Sin-binned James Haskell admits relief after England hold in Dublin
James Haskell thought he had single-handedly blown England's chances of victory in Dublin when he was sin-binned.
Last Updated: 11/02/13 1:14pm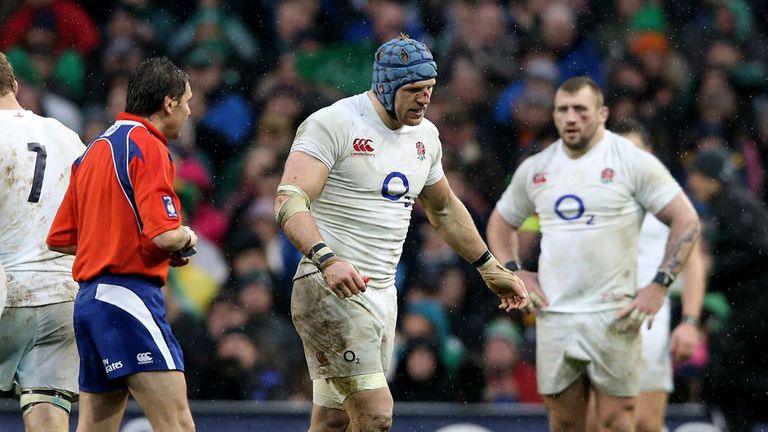 The Wasps back-row was shown a yellow card for kicking the ball out of a ruck in the 56th minute with the score locked at 6-6.
Without him though England took a 12-6 lead, Owen Farrell booting two penalties, before they saw the game out - and no-one was more relieved than Haskell.
"I think my life flashed before my eyes when I got the yellow and I thought if we lost, I may have to run straight out of the stadium," he said.
"I was very disappointed to get the yellow because I didn't intentionally kick the ball and it was resting on my leg. However, there were three penalties in a row and someone was going to get it. Unfortunately, it was me.
"It is a credit to the coaches and the players on the pitch that we coped so well because it could have gone the other way in this weather. However, the boys dug really deep and I was delighted to get the opportunity to go back on and contribute.
"It was probably, in those conditions, easier not to have the ball. Andy Farrell has worked a lot with our defence and the guys were very passionate to get stuck into an Irish team with a lot of x-factor players."
Next up for England are France who arrive at Twickenham on the back of shock defeats to Italy and Wales.
"This is a very big win but we have an angry French team coming to Twickenham and having played there with Stade Francais, I know how dangerous they can be," said Haskell. "We will have a fallow week to get our heads around it.
"No one will get carried away because we know the French can turn up and play one way and then a week later they are world beaters. The French don't like losing and I am sure there will be a few changes."