Six Nations: England plan to thrive under weight of expectations
Ben Youngs insists any pressure England are feeling as they close in on a Grand Slam is being turned to positive effect.
Last Updated: 28/02/13 1:29pm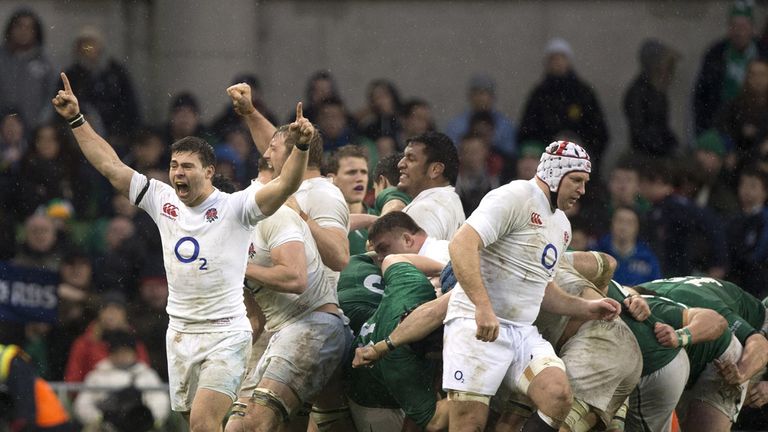 After three straight victories, England are overwhelming favourites to beat Italy on March 10 at Twickenham and set up a Grand Slam decider against Wales in Cardiff the following weekend.
Expectations are soaring amongs supporters and in the media, but Youngs plays down any premature talk of a first England Grand Slam since Martin Johnson's World Cup winners 10 years ago.
Youngs told Sky Sports: "Within the squad the first thing up is Italy at home. Obviously they turned over France, so this is going to be another big challenge for us. It is one we are looking forward to, hopefully at a sold-out Twickenham again.
"We can't get ahead of ourselves, it is one game at a time, it's the old cliche, but Italy is up next and we are looking forward to it."
Asked if the squad were feeling the pressure of increased expectations, Youngs said: "Obviously there is going to be a huge amount of expectation from outside the squad but within the squad there is expectation as well.
Perform
"There is a huge amount of pressure to make sure we perform individually and collectively as a side.
"We are always putting pressure on ourselves, which helps us really to be able to deal with a situation that is hopefully around the corner.
"Obviously if we win against Italy, there is going to be a huge amount of talk about a possible Grand Slam. But it is one game at a time for us, as I said, and we will continue to put pressure on within the squad to make sure we get the best out of each other."
As for the prospect of that Grand Slam decider, he added: "Straight after the Italy game, once the whistle's gone, all the focus will be on the next game, but as I say it is one game at a time.
"I think Wales and England has traditionally been a huge game. It will be no different this time, especially with us coming to Cardiff.
"But Wales won't be there unless we can do a job on Italy first. So as I say, once Italy is out of the way, and hopefully we get a result there, we will continue to focus on the next game, which will be Wales."