Tom Wood delighted by Rowntree's assessment of display against France
Tom Wood was delighted by Graham Rowntree's assessment of his performance in England's hard-fought victory over France.
Last Updated: 28/02/13 10:53am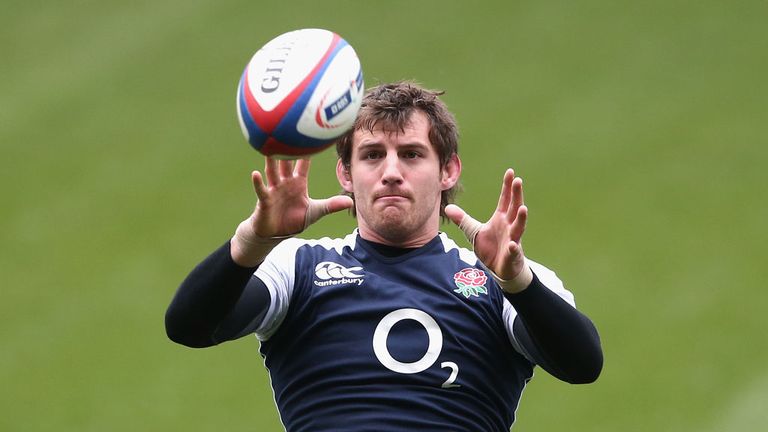 Although skipper Chris Robshaw was handed the man-of-the-match award, forwards coach Rowntree insisted Wood had enjoyed his best game in an England shirt against the French as they stayed on course for a first Grand Slam in a decade with a 23-13 win.
"I am pleased to hear that as it wasn't necessarily a flash game," Wood stated. "Graham knows what he is looking for in a back-row player.
"It is not necessarily offloads out the back door, flair and try-scoring. It's the nitty-gritty. It's hard work on the ground, work-rate and making your tackles, making sure the ball is secure in rucks and things like that.
"That does please me because that is something I pride myself on and I've been working very hard.
"It was a real tough game so to come through, get the win and to hear that from the likes of Graham is pleasing."
The England back-rower went on to reveal that his fine form and consistency in this year's RBS Six Nations Championship has been helped by some specially crafted footwear which has helped him counteract a longstanding foot injury.
Reinforced boots
The 26-year-old has been wearing reinforced boots to help protect against any recurrence and Wood has been pleased with the results.
"A lot of modern boots are made for footballers, very light and agile, less substance to the boots so you've got more feel for the ball," he continued. "They are not really designed for 17-stone rugby players colliding with someone else of equal weight or plodding up and down, or landing from height at a lineout.
"We needed extra support in the boot. Most boots under the weight of a rugby player will collapse as you flex the toe. They'll just bend in half which puts enormous strain on the ball of my foot and the big toe, which is where the problem was.
"So, they get sent to Italy. It must go to one of their labs where they stiffen them, put insoles in them, and now they don't flex very much. They are far more substantial.
"There's a bit more cushion in there. I've got special orthotics which are designed for my foot to off-load the ball of my foot and give me a bit more support there. The boot itself doesn't flex the way a normal boot does. It's very rigid along the bottom so I don't get into those extreme ranges in terms of the ball of my foot."