England fly-half Owen Farrell rated 50-50 for next weekend's Six Nations clash with Italy
Owen Farrell has been rated as no better than "50-50" to line up for Six Nations leaders England against Italy.
Last Updated: 01/03/13 5:30am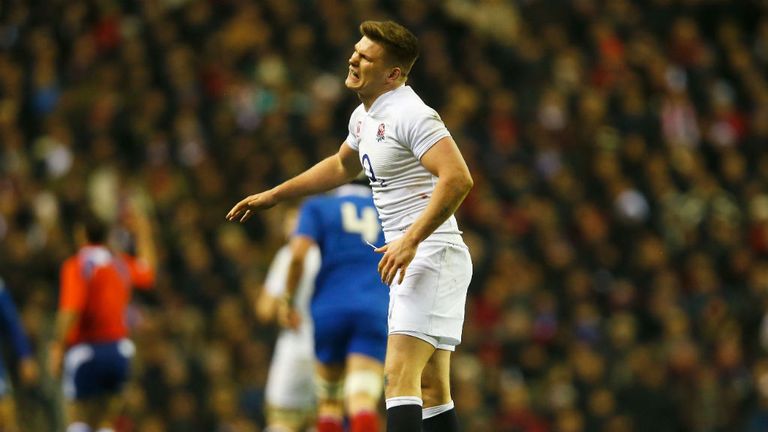 England coach Stuart Lancaster revealed that the fly-half is still having treatment on the thigh injury he suffered in last weekend's 23-13 win over France.
"Owen is making good progress and he's 50-50 for the Italy game," said Lancaster. "In the next week he'll be running, but the problem will be kicking. If there's a doubt we won't risk it.
"We have to make sure that the injury has healed properly so that it doesn't break down again through kicking. We'll have to wait and see how that settles down towards the second half of the week.
"You have to let the injury settle to a point where he's beyond fit enough to run. Running around is fine, but what you don't want to do is return to kicking
too early and return the injury to its current state.
Options
"We'll give him time, but equally there comes a point in a week when we run
combinations," added Lancaster, who has Toby Flood and the fit-again Freddie Burns standing by to replace Farrell at No 10.
"Toby Flood has trained really well and is a good player for us, so I'm not worried in that regard," he said. "It's great that Freddy's fit now. Hopefully he should be good to go, but it will be his first game back in six weeks.
"From our point of view we need to look at his performance. We have other options on the bench who can cover 10."
Lancaster also revealed that Wasps back row Billy Vunipola is likely to be fit to face Italy, while Ben Morgan is expected to return against Wales on 16 March as both recover from ankle injuries.