IRB World Junior Championship: Danny Hobbs-Awoyemi relishing showdown with Wales
Danny Hobbs-Awoyemi says England will treat the final of the IRB World Junior Championship just like any other match.
Last Updated: 21/06/13 5:02pm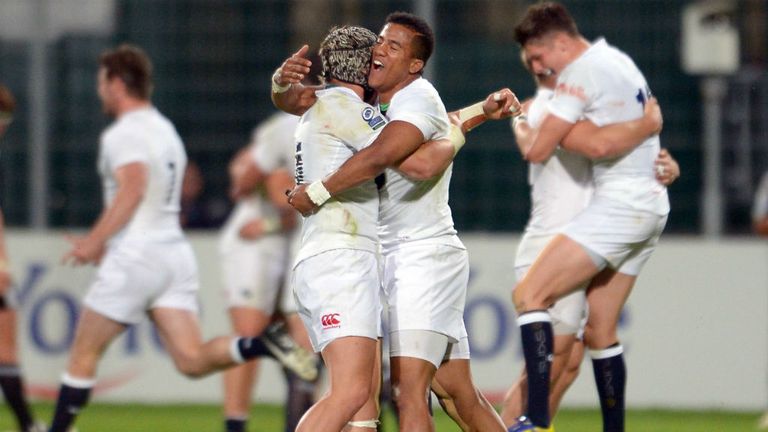 Having beaten the tournament favourites New Zealand in the semi-finals, Hobbs-Awoyemi says England are now ready to take on a Wales side they beat to claim the under 20s Six Nations earlier this year.
Hobbs-Awoyemi is confident that the squad have not got ahead of themselves following the win over the Baby Blacks and will show the Welsh side the respect they deserve.
"We're going to be approaching the game the same as any other, really," he said. "We've been analysing them, analysing ourselves with what we did well against New Zealand and what we didn't do so well, and how we're going to play against Wales.
"No team is a pushover in this competition, but we know that on our day we have to play our game and hopefully that will bring us out on top."
It is clear the victory over the Kiwis has given England's youngsters a huge boost and Hobbs-Awoyemi thinks it was a result that the performance merited.
Brutal
"Everybody had a good buzz about them after the game," said the Northampton Saints forward. "There were a few battered bodies, but that didn't matter because we'd got such a good win.
"It was a brutal match, very physical between ourselves and New Zealand. We were flying in, trying to hit them backwards and keeping the dominance in our defence.
"But our attack was good, too, and we scored tries at crucial times. We needed to keep the points ticking over, keep on scoring and that got us the win."
Furthermore, Hobbs-Awoyemi believes that the team showed their resolved to hold off a New Zealand fight to reach their second final in three years.
"There were parts where there was a little bit of panic, but most of the time we were in control, getting around, making good tackles. It was just a couple of discipline errors on our part that let them back into the game."
It was also the first time that he had faced the Haka, and it is clear that it will live long in the memory.
"It was a great experience," the prop added. "I just wanted to smile all the way through it because I'd never faced it before! But we had to keep our heads on for the game - I get to enjoy it now though, watching it back."
Now though, all thoughts of the semi-final must be forgotten and Hobbs-Awoyemi hopes the players can win the tournament in Vannes to repay all the fans for all the encouragement they have given the squad.
He said: "We've had amazing support and have all been getting tweets and messages from home, and hopefully we can win the title for our supporters, too."