England Sevens head coach Ben Ryan confident his side are ready to challenge for World Cup glory
England Sevens head coach Ben Ryan believes his squad are fully prepared for this weekend's Rugby Sevens World Cup.
Last Updated: 26/06/13 12:05pm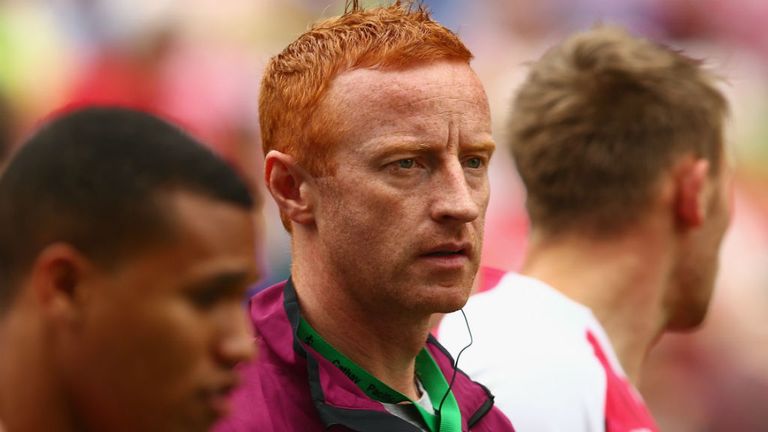 Ryan's side have recorded third-placed finishes in each of their last two World Series events and triumphed in the first round of the European series event to defend their European crown.
England face Portugal in their opening pool game on Friday before clashes with Hong Kong and Argentina on Saturday. Ryan's outfit are certainly favourites to win the pool and advance with the 41-year-old confident that they are fully prepared for the challenge.
"Training has been hard and highly competitive and it's meant the 12 picked are in form and ready for the fight," he said.
"Last week we travelled up to the French Alps and the resort of Tignes for some secluded, high volume training. It was great for getting lots of quality pitch time as well as using the natural environment to top up on conditioning.
"This week is all about tapering now and putting into action everything that has been so good leading into the tournament."
Desolation
The last Sevens World Cup in 2009 saw England eliminated at the quarter-final stage, losing in extra time to Samoa. Ryan is hoping for a happier outcome this time around and feels that the two players remaining from the tournament, Rob Vickerman and James Rodwell, will help drive the team on to ensure such devastation is not suffered again.
"They both remember the utter desolation of losing an incredibly eventful quarter-final to an excellent Samoa side," added Ryan.
"It took some time to sink in that we had been knocked out - it was the most surreal few minutes of my coaching career. I watched us score on the last play of the game to go into extra time.
"In sudden death, the referee told one of our team he was offside and knowing that if they acted, a penalty in front of the posts would be given and with it the game.
"Unfortunately, the players either side of him also mistakenly thought they were being spoken to so no one moved and to see the team stand like statues as a Samoan player literally walked in to score the winning try was as weird a finish to a game as I have seen."
The England boss will now be hoping that his side can take the most of what will be the last World Cup for many of the players involved with the next one scheduled for 2018.
"The next World Cup will now not be until 2018, which will mean for many of the players this weekend this will be their only chance to win the World Cup.
"There is a reason tournaments like this are only once every four years - it makes it more special and heightens everyone's endeavour to do their very best."