QBE Internationals: Tom Wood says England need to beat giants regularly
Tom Wood says England need to start beating New Zealand regularly if they are to be one of the top teams in the world.
Last Updated: 11/11/13 10:57am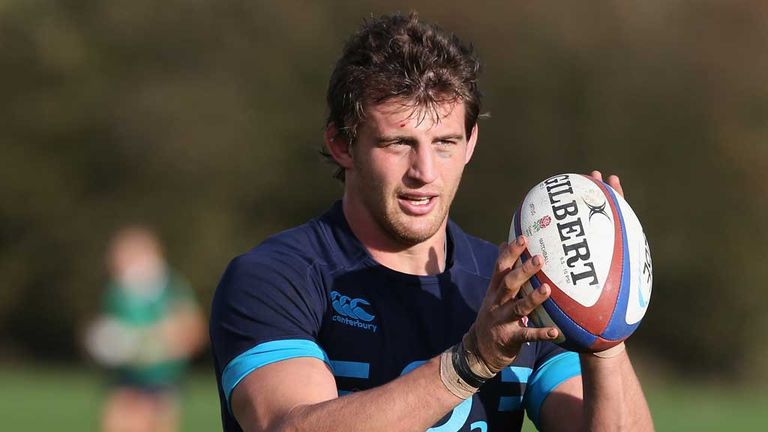 England stunned the All Blacks 38-21 at Twickenham last year, a result and performance which earned Stuart Lancaster's men huge acclaim.
But Wood believes that victories over the southern hemisphere giants should be a regular occurrence and less of a surprise to the media and fans.
The Kiwis - who began their European tour with victory over France - return to Twickenham next week with England aiming for a clean sweep of their November internationals following victories over Australia and Argentina.
And Wood admits beating the All Blacks remains the pinnacle of the men's game.
"You have got to hand it to the All Blacks - they are still the benchmark in world rugby. They have got threats all over the park and strength in depth, but we are getting there," the Northampton back-row said.
Equals
"We want to get to the position where we don't declare national holidays every time we beat them. We want it to be a regular occurrence.
"We want it to be a level playing field. We want to be considered their equals or better than them. We want it to be that when anyone comes to Twickenham, they are underdogs, not us.
"I'm not going to make wild statements about us being better than the All Blacks. We have still got a point to prove. We have still got to back it up week in, week out.
"But I definitely think we are going in the right direction and developing something with a bit more substance and sustainability.
"There is a psychological aspect to playing New Zealand because everyone puts them on a pedestal. A lot of teams are beaten before they go into the game because they expect the All Blacks to win. Everyone does. That is what we got right last year and what we have got to re-create this year.
"You could argue that they were complacent last year or at the end of a long season. There will be none of that this year.
"They will be looking to right some wrongs. This will be the game that matters."
Wood, who started last December's rout at blindside flanker, enjoyed a spell at North Otago in 2006.
Caught up
"I don't claim to be some sort of expert on New Zealand rugby but having lived there and played against some of those characters, it does demystify them," he said.
"It brings them down to earth in your mind and makes you see them as only human. That was a phrase I used last year.
"We were not going to get caught up in the whole aura of the All Blacks. We are going to treat them like anybody else.
"Yes, we are going to have to be at our best because they are a very good side. But that is all they are.
"But the All Blacks coming to Twickenham, we are under no illusions what they means. We are going to have to be absolutely full-on."
Watch England take on the All Blacks on Sky Sports 1 HD on Saturday, with coverage starting at 1.30pm.