Joe Launchbury warns England to take their chances against New Zealand
Joe Launchbury is prepared to take on a "formidable" New Zealand pack when England take on the All Blacks on Saturday.
Last Updated: 13/11/13 1:16pm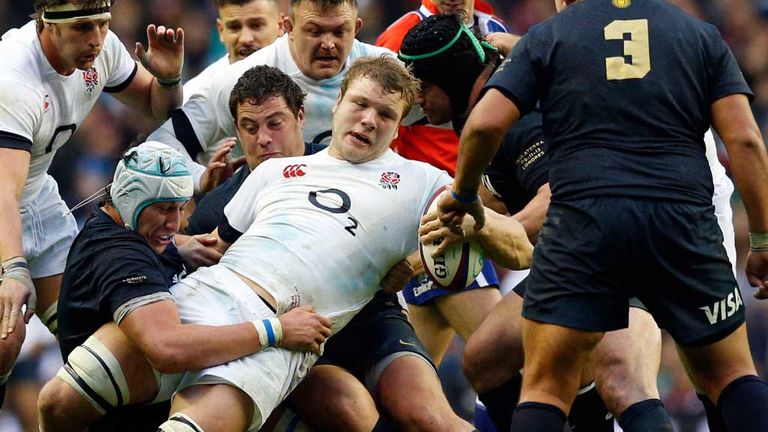 Stuart Lancaster's side go into their final autumn international on the back of encouraging wins over Australia and Argentina, but Launchbury knows the world champions will provide the biggest test of the series.
England were criticised for their second-half performance in the 31-12 win over the Pumas last weekend, when they were restricted to one late converted try after leading 24-6 at the interval.
The Wasps lock is aware they cannot afford any lapse against New Zealand, and he outlined the importance of taking their chances if they are to repeat their famous win over the All Blacks last December.
"I think first and foremost we're happy with the win last weekend," said Launchbury. "Any win in international rugby should be cherished and we should be happy with.
"But at the same time we felt we had a very strong first half and played some great rugby and perhaps in the second half we didn't reach those heights again.
"I think obviously you give a fair bit of credit to Argentina, they came back very hard. They're a passionate country and we knew they weren't going to lie down.
Happy
"This weekend it's about us and if we manage to start well we've got to continue to play well. I think the first 20 minutes after half-time is massively important to us, we need to come out of the blocks at half-time firing.
"I think we're happy with the way things are going, the scrum and the line-up, at the same time we obviously understand the challenge we have this weekend, New Zealand are a formidable pack and they've got some great players.
"I think sometimes we talk a lot in training about perhaps only getting two or three chances a game to score tries and if we want to be the best team in the world or a good team then we need to take those chances.
"We're going into the game slightly different to where we were last year, we came off two slightly narrow losses and we were upset about that, we had our backs against the wall. We're going into this slightly differently, we've won a few games so we're pretty confident where we are as a team.
"Obviously we understand last year we got a few key things right, we managed the breakdown well which perhaps we didn't do in the games before.
"Again this weekend the breakdown will be a massive part of the game, with the back-row they have it's pretty obvious it's a big area for the game.
"I'd like to think we've proved over the last season that it wasn't a fluke and we've gone on and won lots of close games. We won some tough games away from home in the Six Nations and various things like that.
"We're immensely proud of what happened last year but this is a new game and a new task. We're going to need to be on it for 80 minutes to stand in with a chance.
"It's a massive opportunity for me and the team, when you get to play a southern hemisphere side in back-to-back weeks like we've been doing, to play the best team in the world, the number one side, it's a great challenge.
Watch England take on the All Blacks live on Sky Sports 1 and Sky 3D, coverage starts at 1.30pm