Aviva Premiership: Joel Tomkins sets out Saracens and England targets
Joel Tomkins has mapped out his targets, with short and long-term goals to hit both domestically and internationally.
By Chris Burton
Last Updated: 19/12/13 9:50am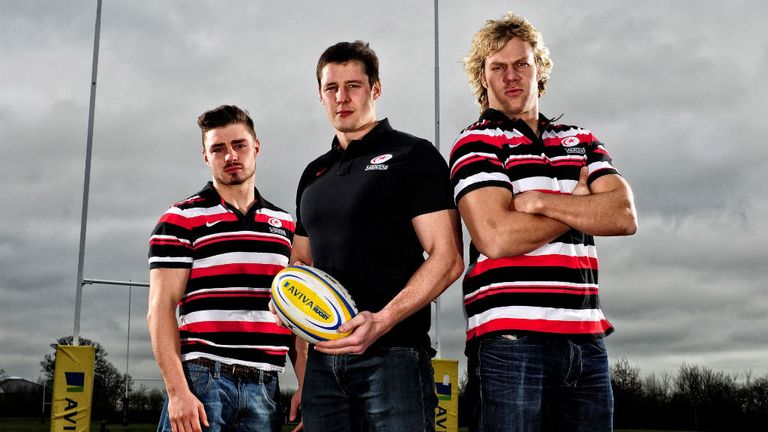 Currently laid low with a knee injury picked up while on international duty with England in November, the immediate concern for Tomkins is returning to full fitness.
The 26-year-old centre admits his setback has come at a bad time, with Saracens currently flying high at the top of the Aviva Premiership table and the countdown very much on to the 2014 Six Nations.
Tomkins, speaking on behalf of sponsors Aviva, told Sky Sports of the progress he is making in his rehabilitation and a possible return date: "It's going all okay in my rehab programme. We're aiming at early February, if not January, but that will depend on how the rehab goes in the next month or so.
"It is a frustrating injury, especially at this time of the season when there is Heineken Cup games, important Premiership games and then the Six Nations in February. But these things happen in sport, you have just got to take it for what it is, get on with it and try and use it as an opportunity to get a bit stronger in the gym and come back fitter."
Asked if the Six Nations remain a realistic target, he added: "It's quite a long way away at the moment, I have just got to concentrate on getting myself fit and see what comes off the back of it. I need to be playing for Saracens and I'm not really thinking that far ahead, I'm just focused on getting fit."
If he can get fit, Tomkins would be expected to form part of Stuart Lancaster's plans, with a man who crossed codes from rugby league in 2011 having shown that he can cut it with the best union has to offer.
He said of his international bow against the best sides in the world: "It was a great experience. I think the three performances overall, there were a lot of positives and it's a good platform to build on now.
"Obviously it slipped away from us in that third game against the All Blacks, but I think we showed what we can do in all three games. It's probably just about putting an 80-minute performance together. But overall it was a positive experience and hopefully I can have a few more.
"It was a difficult three games. I felt like I showed glimpses, but I don't suppose you are ever 100 per cent happy with your performance. I think there are always improvements when you look back and analyse your game and there are things you look at and think you can improve.
"But from a positive side of things, I've gained that experience now and that should stand me in good stead if I get the opportunity to play again in the near future.
"At the moment, there are a lot of centres injured. That's part and parcel of the game and if you are fit and get an opportunity, you have got to take it with both hands and make it tough for the coaches to leave you out."
Helping to maintain the high standards Saracens have set in 2013/14 should aid Tomkins' claims to an England jersey, with there a determination within the Allianz Park camp to right the wrongs of last season - when they fell at the semi-final stage in the Aviva Premiership play-offs and in the Heineken Cup.
Tomkins said: "Things are going well. We have had a couple of good performances in the Heineken Cup. Against the Zebre team, they came to play and they really put the effort in, but I think the quality that we had in the squad just showed towards the back end of each game.
"It's a good time for us and we're coming strong in the second half of games. Hopefully we can carry that into a massive Premiership game against Leicester and use that as a platform to get a good result."
Challenge
Asked if they can sustain a challenge on multiple fronts, he added: "Definitely. I think we showed that last year, we got to the semi-finals. Although we came up short in both semi-finals I think that, especially in the Heineken Cup, it could have gone either way. This year, we're all looking to go one step further and make the final of both competitions and we want to win both competitions.
"Sometimes when you lose big games like that it does stay in the back of your mind and you bring it out to bind you all together again. Losing that semi-final will make us even more determined to make the final."
It is shaping up to be an exciting time for the Tomkins clan, with younger brother Sam about to embark on a new challenge in the NRL with the New Zealand Warriors.
Joel says his sibling is settling well down under but is reluctant to get caught up in a debate regarding his own future and a possible return to league competition further down the line.
The former Wigan Warriors man said: "I don't know, to be honest. It's a long way down the line. Ever since I have come to rugby union that's a question that I get asked and it's always the same answer - at the moment I'm a Saracens player and I'm enjoying playing rugby union.
"I have got ambitions to play international rugby in rugby union and goals that I want to achieve. In the future you never know what is going to happen, but at the moment I am definitely happy where I am."
Among the 'goals' Tomkins hopes to achieve before further radical career changes are considered are landing major honours with Saracens and earning a place in the England squad for a home World Cup in 2015.
He said: "Domestic trophies and things like that are always the goal, but I think there is a massive goal for any English rugby player with that World Cup around the corner.
"I think that is probably in the back of everybody's mind that what an occasion that will be, a massive sporting occasion, probably one of the biggest the country has seen. To be a part of that would be amazing, so that's probably a goal for every young English lad who is aiming to get into that squad."
Aviva are proud sponsors of Premiership Rugby. For more information on Aviva's home insurance deals, go to aviva.co.uk/insurance