Six Nations: Mike Brown says Murrayfield pitch 'unfit' for internationals
England full-back Mike Brown has condemned the Murrayfield pitch as unfit for international sport.
Last Updated: 09/02/14 2:24pm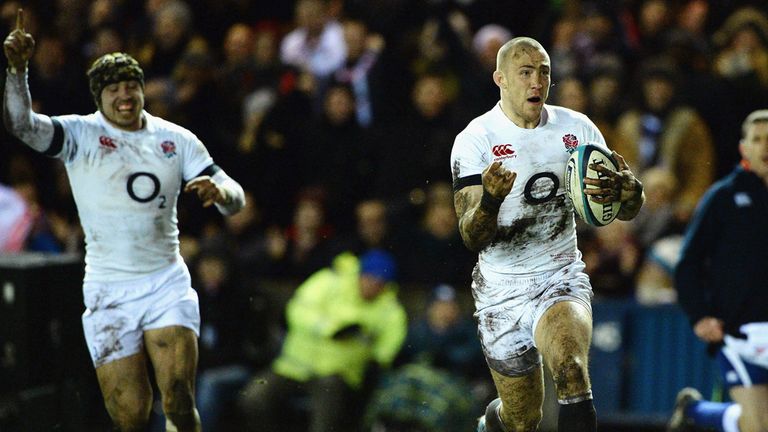 England won the Calcutta Cup clash with Scotland 20-0 on Saturday, a match played on a pitch which cut up badly.
The grass had become infested with a parasite which meant the roots easily gave way.
"It definitely has an impact when you play on a pitch like that," Brown said. "It's not really good enough to play an international game on that sort of turf. This is elite sport and an international game can get ruined by a pitch like that.
"I know Scotland want to play a bit more and we definitely want to play a bit more, but the condition of the pitch didn't really help.
"Owen Farrell is a phenomenal world-class goal-kicker and you could see he was slipping with his standing foot. A lot of lads did well to keep their footing.
"I'm sure they're doing the best they can to make it right but I'm not sure it's good enough to play an international match on that. I'm sure the Scotland players are as frustrated as us."
Brown and Luther Burrell scored the tries, and the Harlequins star revealed he delivered his outstanding display despite being ill.
He first felt poorly on the train journey up to Edinburgh and he said: "I think I caught a bug through the air-con when travelling up here. I didn't sleep too well on Friday night and I have a really sore throat now.
"I've had the shakes and you know when you're ill you are sensitive to every little knock and the cold. It wasn't ideal but you have to do what you can do.
"I dosed up on paracetamol and all the things you are allowed to take. But the throat is definitely really sore now.
Chilling out
"I'm looking forward to chilling out on Sunday, seeing the missus and watching some TV."
Brown picked out his back three partners Jack Nowell and Jonny May for praise - both the inexperienced wings caused kittens in the Scotland defence with their running.
"The back three were outstanding. We let ourselves down, especially defensively, against France," Brown said.
"Credit to the two youngsters (Nowell and May). When they get the ball they are quite electric so it's great to play alongside them."
Next up for England is Ireland at Twickenham, which will be a much tougher test.
"Ireland did a good job on Wales and it takes a very good side to do that," Brown said. "They'll want to spoil our party at Twickenham and we need to work hard to make sure they don't."