Six Nations: Conor Murray focused on keeping Danny Care quiet
Conor Murray says Ireland will have to keep a close eye on Danny Care or he will wreck their Triple Crown bid.
Last Updated: 19/02/14 3:40pm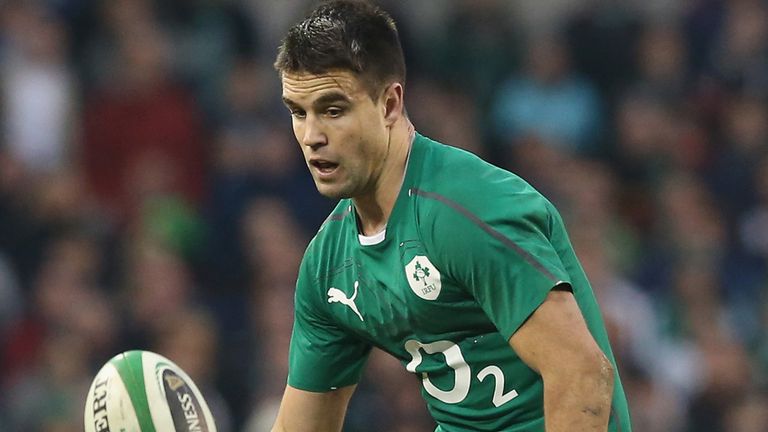 Murray will go head-to-head with Care in an intriguing battle of the No 9s at Twickenham on Saturday, a battle that could go a long way to deciding one of the Six Nations' pivotal matches.
Ireland are yet to concede a try in the tournament so far, impressing in their wins over Scotland and Wales, but Care's sniping abilities from around the scrum will make it tough to keep that record going according to Murphy.
"He's as dangerous as any in the world with the ball in hand," said the 24-year-old.
"I played against him last year and in the Heineken as well, and leading into that game we had a good look at him.
"He's a threat from anywhere, he'll try anything from anywhere and he has the ability to pull off some really spectacular plays.
"So he's definitely a player we'll have to keep an eye on. Quick taps, little snipes, he's going to go from everywhere.
"Whoever's in the line of defence, whoever's closest to the ruck will have to watch him closely; he likes to snipe in and around there.
"He'll try little dinks, he'll throw offloads, and whoever's in that front line has got to be switched on.
Talking
"I'll obviously hope to be in behind that looking for those little chips, but whoever's up in the front line I'll just be talking to them, making sure we keep an eye on him at all times."
But Murray is confident Ireland are ready for the weekend, when they could go a long way towards securing the overall title as well as domestic bragging rights.
"It's our first away game and it's against a side that's going really well, a side that has experience and is extremely powerful," Murray added.
"Yes there is inexperience in the back line in places, but with that comes a bit of fearlessness. There are threats all over the park and it's definitely our toughest test so far.
"We know there's a Triple Crown on the line and that's a great position to be in. But Joe (Schmidt, coach) has put us right this week and we've been knuckling down to make sure we're ready.
"We know how hard it will be, and at the end of the day if that pulls off, then great."