Six Nations: Alex Cuthbert ready for clash with old friend Jonny May
Wales winger Alex Cuthbert is looking forward to going up against friend and college team-mate Jonny May at Twickenham.
Last Updated: 01/03/14 10:41pm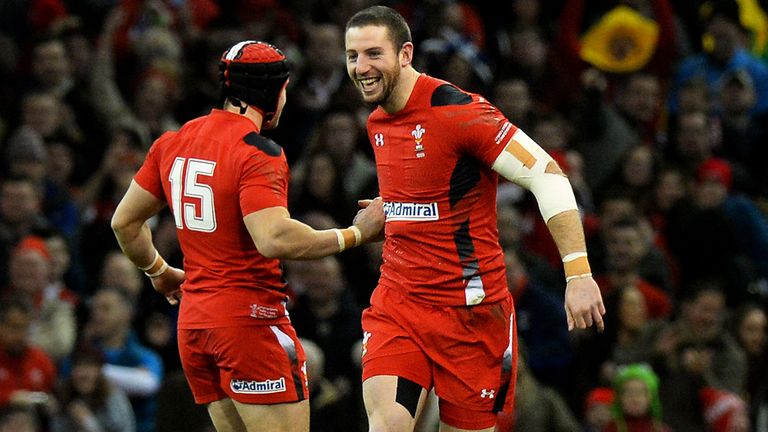 Both players served part of their rugby apprenticeship at Hartpury College in Gloucestershire but friendship will be off the menu when England and Wales face-off in a potential decider for the Six Nations title.
May's England side go in search of a Triple Crown after wins over Scotland and Ireland while Cuthbert and Wales would love a repeat of last season's demolition in Cardiff that denied their rivals a Grand Slam and won them the title instead.
Cuthbert and May could well have ended up in the same international team but the former chose Wales and has gone on to become a key member of Warren Gatland's squad.
May only broke into the England squad last summer but Cuthbert knows he will be a threat to the Welsh despite his relative inexperience.
"I have known Jonny since college days, and we grew up playing in the same team," Cuthbert said. "He is a good boy and has done really well, making yards and beating a lot of players.
"I had two years at Hartpury with Jonny. I am good mates with him and I am glad he is doing well.
"He was breaking into Gloucester's academy while we were at Hartpury. I have not played against him before, and it will be exciting if we are both selected.
"I speak to him now and then and see him when I go back to Gloucester. I might send him a little text next week.
"England have a dangerous back-three (May, Jack Nowell and Mike Brown), and if you kick long to them and give them time and space they will cause problems, especially with the confidence Mike Brown has.
"We have to keep them away from the ball, as they will look to do to us. Give May a yard and he is gone. He will score from anywhere, as he has shown for Gloucester."
Fond memories
Cuthbert has very fond memories of the 30-3 win at the Millennium Stadium last year, but he expects a very different England side on home turf in front of their inspirational support.
"It is one of my best memories in rugby, with the (2013) British and Irish Lions, but it was a year ago and England are a different team to then, as are we," Cuthbert added.
"I would rather have scored the tries last year without an injured hamstring! It was one of those games when I definitely did not want to come off.
"It showed how much it meant to me playing with the boys and not giving up, and I am glad I played for the rest of the game.
"If that defeat had happened to us, I would still be thinking about it, but you have to get on with it and not take it too personally.
"They (England) are playing well and will be full of confidence. They can perhaps hurt us in parts of the game, but they know what we can do as well.
"It will be about who turns up and wants it more. Whoever takes charge of the first 20 minutes will have the upper hand, but England have shown they can come from behind, as was the case against Ireland last weekend.
"We could start well and they could come back, and it will need the full 80 minutes to win the game."