Manu Tuilagi returns as Leicester Tigers beat Newcastle Falcons
Manu Tuilagi was delighted to return to action after a five-month absence in Leicester's 41-18 win at Newcastle.
Last Updated: 03/03/14 1:49pm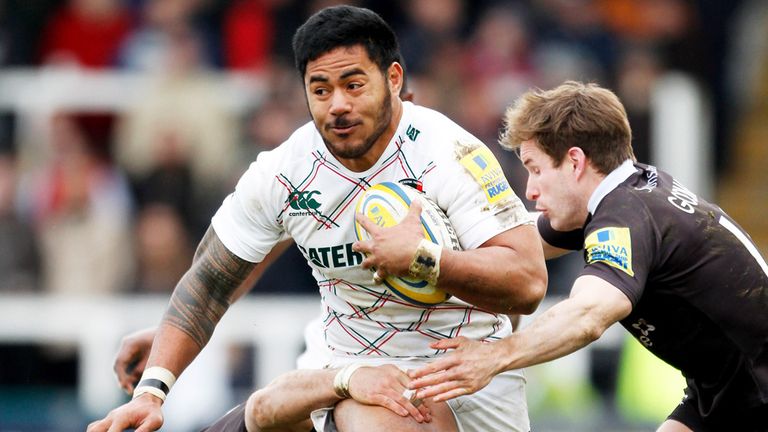 Tuilagi will link up with Stuart Lancaster's squad on Monday and there was enough in his performance - despite a late sin-binning for a deliberate knock-on - to suggest he could return to the England line-up against Wales next Sunday.
"I was excited to be back and wanted to play the whole 80 minutes," said Tuilagi. "I felt pretty good out there after all the training I have been doing and I've worked hard to get myself back to this point.
"I was pretty nervous and excited at the same time - just to get out there and get the feel of the rugby ball in my hands and to play again. It took a while for me to get the ball but I was straight back into it as far as defence was concerned.
"I'll be going down to training with the England boys tomorrow and we'll take it from there. The boys are doing really well and it'll be really good for me to just go down there and get settled back in there and take things from there.
"I spoke to Stuart last weekend and he said to come down after the game and train and we'll see how it goes. I knew that in the first game back I was bound to be nervous, but I just wanted that ball and I was happy with the first tackle and impact.
"If Stuart asks me if I'm ready to play I'll say 'absolutely'. Of course, I would be nervous but I always like to be nervous before a game, it keeps me on my toes. I feel I've knocked the rust off my game today. I would have liked to play the whole game and felt I could have."
Tuilagi may not have set the game alight but neither did he look like a player who has been out for so long, following a shoulder operation.
Long road
"It's been a long road back," he said. "It was a setback when they said it was really off the bone and needed an operation. They had to pull it back up and bolt it back and it took a while to heal.
"The five months have been really tough. I knew the injury was bad because I heard a little crack when it happened and I was really gutted, but that's rugby, you get injured and try to focus on the positives."
Tuilagi was joined in being shown the yellow card by Ben Youngs and Toby Flood.
"I'll have to have a look at those yellow cards," said Leicester director of rugby Richard Cockerill. "He was quick to get his cards out, but I'm happy with the result and happy to be where we are in a season where we have played rubbish to be honest."
Falcons boss Dean Richards was not enamoured with referee Greg Garner.
"We said at half-time we were getting absolutely nothing from the referee," Richards said.
"He was very inconsistent in his decision-making so we had to be squeaky clean and we gave away two silly penalties away which they kicked and that just made it a little more difficult for us.
"We did play some good stuff in the first half and in the right areas of the field and we didn't do that in the second half.
"You only have to look at the quality of the side we were playing today. They have so many players to call on including those on bench and I thought the boys fronted up today and I thought we played pretty well, it's a just a shame we let it slip in the second half."