Six Nations: Joe Launchbury says he won't throw punches to prove a point
England lock Joe Launchbury says he won't be throwing punches to prove he is one of the best second rows in the world.
Last Updated: 11/03/14 10:55pm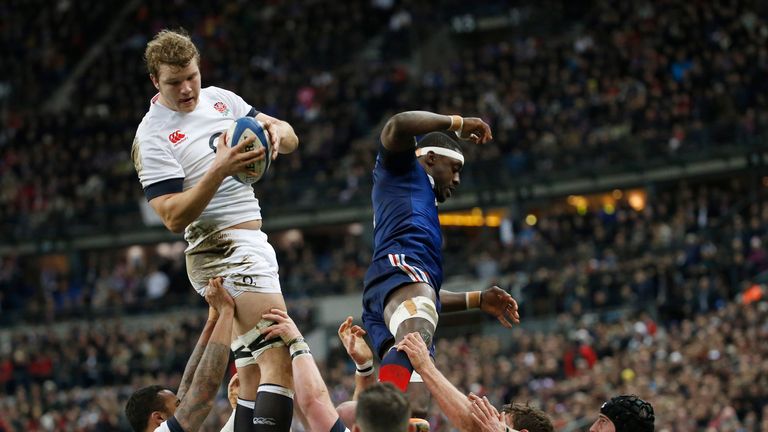 The Wasps star has been in brilliant form in the Six Nations and is widely acknowledged to have outshone two modern greats in Ireland's Paul O'Connell and Wales' Alun-Wyn Jones this year.
O'Connell and Jones are two fearsome leaders and British & Irish Lions captains. Launchbury is comparatively unassuming and rarely - if ever - finds himself in trouble with referees.
He insists though that does not make him a soft touch - he simply does not want to give away needless penalties for the sake of making a point.
"If players annoy me I'll try and tackle them next time," he said. "With all the cameras in the game now and the TMO, if you swing any arms or get carried away you're going to cost your team.
"As we saw against Wales, penalties can be kicked from anywhere in your half, which puts you three points down.
"If I'm angry about something I try and take it out in a positive way for the team rather than throw a punch which is going to do no-one any favours.
"I'm not the loudest guy in the camp but when I get out on the pitch I find my voice.
"Being a second row in international rugby you can't get pushed aside. You have got to be right at the front."
His performances against O'Connell and Jones mark the 22-year-old out as a massive weapon for England in every sense, and he enjoyed the challenge.
"Playing against the Lions captain (Jones) on Sunday was a real privilege," he said.
"It was an honour to pit my wits against him and to come out just in front was huge. Alun-Wyn said briefly afterwards 'well played, you're having a really good season, keep it going'. That was great to hear.
"But I'd have to say playing against Paul O'Connell, somebody who has been at top of his game for 15 years and who I grew up watching, was great."
England forwards coach Graham Rowntree insists Launchbury is adept at making his presence felt.
"Joe quietly goes about his business. He's a very aggressive player - see the impact of his tackle work, see his numbers," Rowntree said.
"He doesn't go round screaming at people. A lot of his work is quietly done under the radar, but ask the opposition if they feel Joe is on the field..."