Sky Sports talks to England rugby star Danny Care about World Cup, Sevens and Liverpool's title hopes
England scrum-half Danny Care talked to Sky Sports about his World Cup dream and the importance of rugby sevens.
Last Updated: 27/03/14 10:26am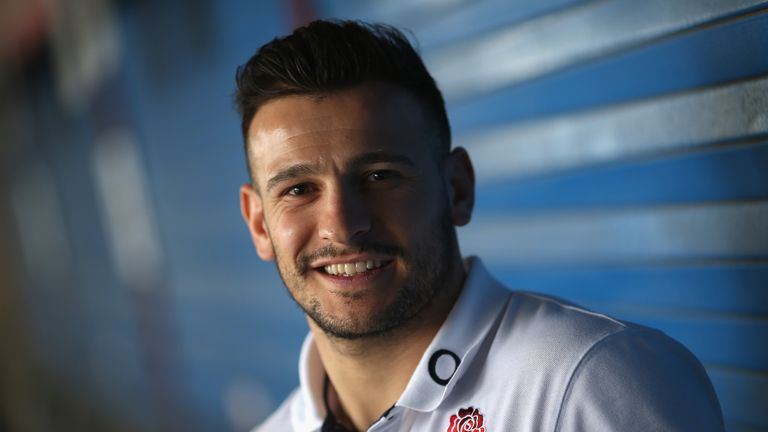 Care started every game of the Six Nations for Stuart Lancaster's side, who came agonisingly close to the title, losing out to Ireland on points difference.
Still, it proved a good pointer for next year's World Cup, and Care now says England are hopeful of producing a huge showing in next year's event.
"I think we can be incredibly proud, the way we bounced back from the first loss which was such a disappointing loss to win all four games was great," Care told Sky Sports News Radio. "I think our performances got better and we raised it each week
"We're really proud of how we finished the tournament, we were a few points off the title but fair play to Ireland they did what they had to do in France and deserved it.
"Stuart Lancaster has shown that he gives the young lads a chance to go out there and show what they can do and you saw that with the young lads who were brought in this year like Jack Nowell, Jonny May and Luther Burrell getting a chance.
"If you're playing well with your club you're going to get a shot. The squad's really good and it's more and more competitive so when you get a chance you know you have to play well.
"The dream and the end goal is to win the World Cup in 2015 and I think we're a team that's learning every week and getting better every week and hopefully we're looking to peak then."
Sevens success
Care's first taste of success came while playing for England Sevens, with whom he won a Commonwealth Games silver medal and was able to travel the world playing in the global competition.
Sevens is again on the Commonwealths agenda in Glasgow, and will also make an Olympic debut in Rio in 2016. That makes the current HSBC Sevens World Series, which is in Hong Kong this week, even more important.
"I was lucky enough to go to the Commonwealth Games with England and win a silver medal and I'm very proud of that. I had a couple of years on the sevens circuit touring the world - I'm very lucky to have been a part of the sevens team," Care added.
"It's brilliant that it's in the Commonwealth Games again and obviously in the Olympics as well. It's such a great sport it's what the fans want to see - good, fast, attacking ruby. There's a lot of space for the fast lads out there and it's great to see them running with ball in hand.
"The England side is really strong, I think Simon Amor is a fantastic coach and he's got the boys working hard. I think Jack Clifford from Harlequins is out there with the boys. It's a brilliant tournament out in Hong Kong, it's a fantastic place to visit and the crowd support is unbelievable."
Sevens is also seen as the version of rugby key to getting more youngsters into the game, something which Care is also involved in through his role as an ambassador for the world's largest schools sevens competition - the Rosslyn Park HSBC National Schools Sevens.
Liverpool fan
Care has had a great start to the year, scoring two tries during an impressive Six Nations campaign, and although England came up just short he hopes Liverpool can go one better and grab a long-awaited Premier League title.
"I keep telling people I really hope that we can win the league - the football that they're playing I think they're the best team in the league to watch at the moment. They're the most dangerous attacking team and hopefully it's not come just a little bit too late.
"Seeing how good Man City are looking we need them to slip up but it's just brilliant to see Liverpool playing that style of football - I think Brendan Rodgers is a quality manager and we've got the best strikers in the world so we're looking alright."
Care also admitted his dream would be to pull on the red shirt at Anfield, as he tries his best to get his rugby team-mates to have a kick around with the round ball as often as possible.
"I'd have loved to have pulled on that red shirt, but it's the white shirt and the four quarters for me in this game," Care added.
"I try to do a little bit whenever I can. In training I get the football out to warm the boys up but it gets quickly booted away by one of the angry coaches because they don't like seeing that on the pitch.
"But we're all failed footballers anyway us rugby players so we like to get the round ball out and have a kick around every now and again!"
England Rugby Union and former England Sevens player, Danny Care was speaking on behalf of HSBC at the Rosslyn Park HSBC National Schools Sevens where he helped run HSBC coaching clinics for schools during the tournament. For more information visit www.rpns7.co.uk