Aviva Premiership: Wasps star Nathan Hughes could play for England
Wasps' rising star Nathan Hughes has confirmed he has held talks about qualifying to play for England.
Last Updated: 20/04/14 3:39pm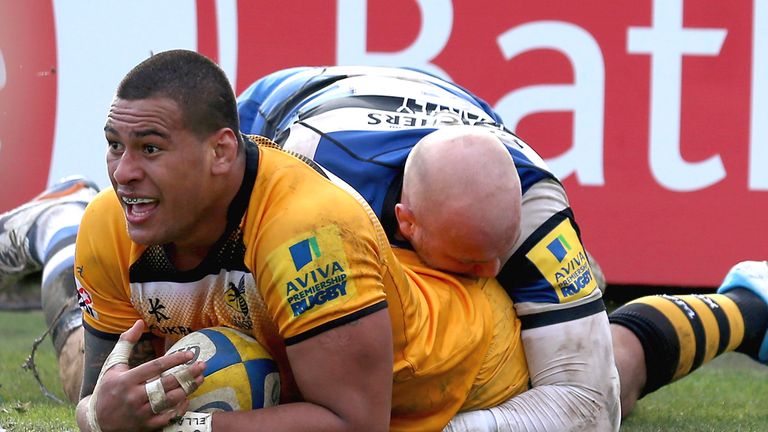 The explosive No 8 - who played his first game of rugby at the age of 16 - won his third man-of-the-match award in four games in Wasps' 38-30 victory over Gloucester at Twickenham on Saturday.
The 22-year-old outmuscled his opposite number and England star Ben Morgan, and it appears only a matter of time before he plays international rugby.
Hughes could play for Fiji or Samoa now, and with the World Cup a year away that is a tempting option. But he qualifies for England in 2016 on residency grounds and he confirmed Twickenham have been in touch about his potential allegiance.
"I'm not going to make any decisions yet, I still need more experience. Down the line I'll start making a decision over who to play for," he said.
"I have Fijian and Samoan backgrounds, but if I wait a bit longer I might be able to play for England as well.
"There have been a lot of calls and talk, but nothing face to face. Just over the phone.
Decisions
"I'm just focusing with Wasps and if England want me, then we'll start making decisions from there."
Hughes, who can also play in the second row or No 6, is playing his first season in the Aviva Premiership after joining Wasps from the Auckland Blues last summer.
The Blues wanted him to continue his rugby education in a development team, but he decided he wanted to play senior rugby, and Wasps came calling.
He spent most of his teenage years in Fiji playing hockey, and only picked up a rugby ball for the first time at the age of 16.
"I played field hockey. I thought rugby was a girl's sport, while hockey was a tough sport because there's a stick and a ball. You can be battered by the stick and the ball!" he said.
"I can still remember what my first rugby coach said to me because he was down on players, asking if I wanted to play against a school from New Zealand.
"I told him I don't know any rules, but he said all you have to do is catch the ball, run it straight and if someone has the ball then tackle them.
"So that's what I did and I got a scholarship on the strength of that game. The visiting team were scouting people as well."
Wasps director of rugby and former Wales prop Dai Young describes Hughes' potential as "frightening".
"Nathan certainly doesn't have any Welsh heritage, I've checked!" Young said.
"Nathan is exciting because he's still so raw. He's a real ball of energy. It's frightening because he has a lot of growing to do and this is the first professional environment he's been in. He'll only get better from here."