England wing Jonny May aiming to impress on New Zealand tour to stake World Cup claim
England wing Jonny May hopes he can put down a marker in New Zealand this summer ahead of next year's home World Cup
Last Updated: 09/05/14 4:07pm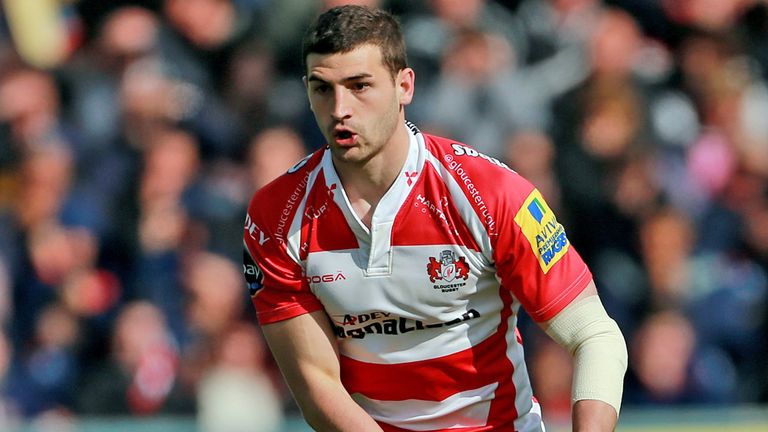 Gloucester flyer May made one of the wing spots his own in England's narrowly unsuccessful Six Nations, but knows fit-again speedsters such as London Irish's Marland Yarde will heap pressure on selection for next month's three-Test tour.
May revealed England boss Stuart Lancaster had offered encouraging words at a Kingsholm meeting last week.
The 24-year-old said: "There is a lot of pressure and there's great demand and stress, but it's about clearing your mind of all those things.
"I definitely learned a lot in the Six Nations. I think it highlighted how much the game at that level is a mental challenge. It's extremely demanding mentally, almost twice as much.
"It's a weird feeling before a game: it's basically as though you've got an exam, and you just hope you're fully prepared.
"The week is almost my revision in terms of preparation, in training, analysis, diet, stretching, everything.
"So that by the time the game comes you can just relax and everything then takes care of itself. That's where I want to be when the game comes.
"Nerves are healthy and you know you'll be under pressure, but you believe in yourself and trust in the preparation to go out and produce the goods.
"Stuart came in last week; he just wanted to catch up with Nigel (Davies) and a few of the players at the same time.
"He just said keep going, and that coaches understand it's been relatively difficult here this season.
"But I don't like to make excuses, I would have liked to have done a little bit more since coming back from the Six Nations.
"I'm just going to keep working hard and give it another good go."
Opportunity
Hoping to pick up where he left off in the Six Nations in New Zealand, May admitted chances to impress Lancaster with a view to 2015 are already running out.
"With the fact the Premiership finalists won't be in that first Test, there will obviously be players missing from that match," said May, keen to keep expanding his game on the advice of the England coaches.
"People are going to get chances and so it's got to be seen as a great opportunity. Even though I try not to look too far ahead it's something you can't avoid because it's such a big draw, the World Cup.
"I feel the Six Nations went well and I put down a good marker, and hopefully I'll be able to do that in New Zealand, after finishing off with a good game this weekend.
"There aren't many more chances for new people coming in to get their foot in the door, so this may be a last chance for people who haven't been involved to put their hand up.
"Luckily I've already had an opportunity to get involved, so maybe I'm one step ahead of people who haven't had a chance yet."