Jonny Wilkinson to retire from rugby after Heineken Cup final
Jonny Wilkinson has announced that he will retire from rugby at the end of this season.
Last Updated: 19/05/14 11:35pm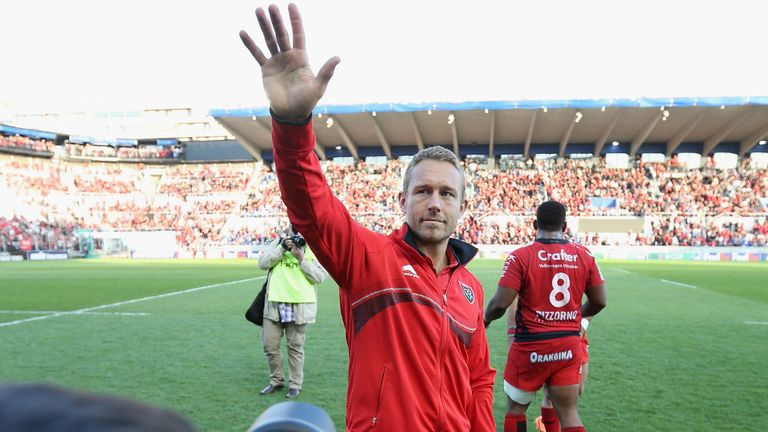 And having made the momentous decision to end his professional career, the fly-half says 'it is a great weight off my shoulders to finally call it a day'.
Wilkinson will play two more games for his club side Toulon, starting with the Heineken Cup final against Saracens at the Millennium Stadium on Saturday.
The 34-year-old won 91 caps for England across 13 seasons and famously kicked the winning drop goal in the last minute of extra-time to win the Rugby World Cup final in 2003.
He then went through years of struggle with injury, mostly to do with his shoulders, but he has enjoyed a fresh lease of life in the French Top 14 and secured a fourth Six Nations title with England in 2011 before announcing his international retirement.
Wilkinson went on to play a major part in leading Toulon to Heineken Cup glory last season and they will bid for a double this weekend before what will be his final game, the Top 14 Grand Final against holders Castres on May 31.
Talking about his decision to retire, Wilko admitted: "It's been a rollercoaster ride but the time is right.
"I have been thinking about it throughout the year, and now is the right time and right feeling.
"It's a weight off my shoulders, to be honest. It has just been a gut feeling, and the gut feeling is loud and pretty true right now.
"Having been playing rugby since the day I left school, and having never had a proper job, I think this leaves me a bit unprepared in terms of what comes next.
Apparent
"Everyone thinks they can carry on forever but it is becoming ever more apparent when you see the size of the guys running alongside you.
"It is ultimately a younger man's sport and reserved for those that have their future ahead of them, and not mine."
He did say the part of rugby he will miss most is the cameraderie of his teammates, and all the seasons of bonding with his fellow professionals but accepts it is time to move on.
Sky Sports' rugby expert Stuart Barnes paid tribute to Wilkinson on Sky Sports News.
"From 1999 to 2003 Jonny Wilkinson was one of the greats of the game," he said. "In that period he cemented his reputation as the greatest English fly-half of all time.
"Injuries and a loss of form came but the way he's finishing his career with Toulon; winning the European Cup and playing brilliantly; being the European Player of the Season last year; and playing superbly as they try and win a double of Europe and domestic this year, is quite incredible.
"Jonny is an unbelievable rugby player because you wouldn't say he was the most naturally gifted; the work he put in to the game to become what he's become is quite astonishing and he's undoubtedly the greatest professional - in terms of work ethic - that professional rugby has ever seen.
"He redefined the art of defending from fly-half and because he was so fit, so determined, so fiercely focused; he relished the contact. Naturally he's not a big bloke and a lot of the injuries came from contact, he really has tested his body.
"Day in day out he's worked longer than anyone. On the morning of the matches he'll be there practising. The fans in Toulon absolutely idolise him and that doesn't go to his head; he's a modest bloke and he loves the fact that they demand something of him with a smile.
"Wilkinson has been outstanding for Toulon but Toulon has also been very good for Jonny Wilkinson."
Watch Saracens take on Wilkinson's Toulon in the final of the Heineken Cup on Saturday, with coverage starting at 4:00pm on Sky Sports 2.