Harlequins' Kyle Sinckler and Will Collier battle for place on tour of New Zealand
Harlequins youngsters Kyle Sinckler and Will Collier go head-to-head for a place on England's tour of New Zealand.
Last Updated: 28/05/14 11:30pm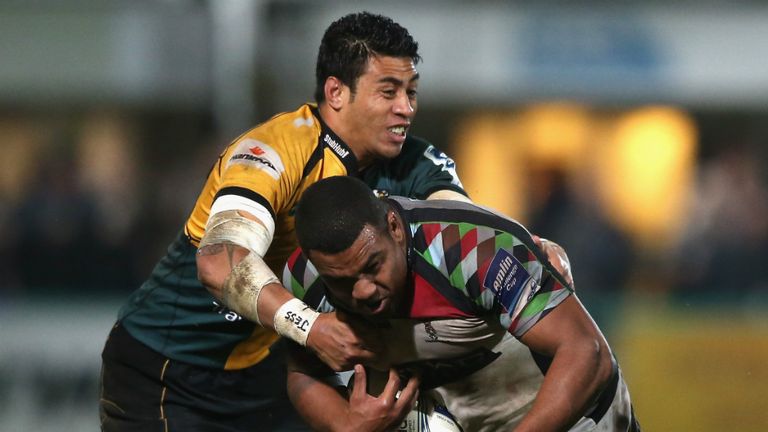 The pair have been a revelation for Quins this season, and both will be given a chance in an England XV against the Barbarians at Twickenham this weekend.
Whoever impresses most will go on the senior team's tour and England XV coach Jon Callard says both tightheads are capable of making the step up.
"It is an interesting battle, again they've had the opportunity of tuition last week with the senior coaches where they've been under the watchful eye of Graham Rowntree," said England XV coach Callard.
"He's obviously had an inkling of what he wants to go to New Zealand.
"Hopefully we'll give both a chance in terms of game time; it isn't winner-takes-all by any stretch of the imagination.
"The senior team will already have a certain eye of what they want in terms of who goes out next week.
"But for us it's about those performing first and foremost for this team, and not worrying what the flight could be like on Monday.
"All that will take care of itself. It's a fantastic opportunity for these players, right across the board."
Harlequins will boast four front-rowers in New Zealand and six across England's two summer squads, leaving Callard hailing The Stoop club's commitment to home grown talent.
Promoting
Callard praised O'Shea for promoting Sinckler and Collier last summer rather than chasing another import when scrum cornerstone James Johnston signed for Saracens.
"Conor has a fantastic coaching team around him, Tony Diprose, John Kingston in particular," said Callard.
"And with the front-row lads coming through, Rob Buchanan and Joe Gray, and Dave Ward has come through and been sensational this year too.
"So a lot of credit to Conor and his coaching team for what they've done there. And the proof's in the pudding that they've had a great season.
"I would also give credit to the work that Graham Rowntree has done with Ian Peel, the development scrum guru within the union, who has taken clinics around the country and led techniques.
"They are doing a fantastic job; it's a hugely important part of the game we don't want devalued.
"It's been there for hundreds of years and long may it remain."
Watch England take on the Barbarians live on Sky Sports 1 on Sunday, with coverage from 3pm.