IRB Junior World Championship: England and Ireland set for semi-final showdown
Last Updated: 10/06/14 12:01pm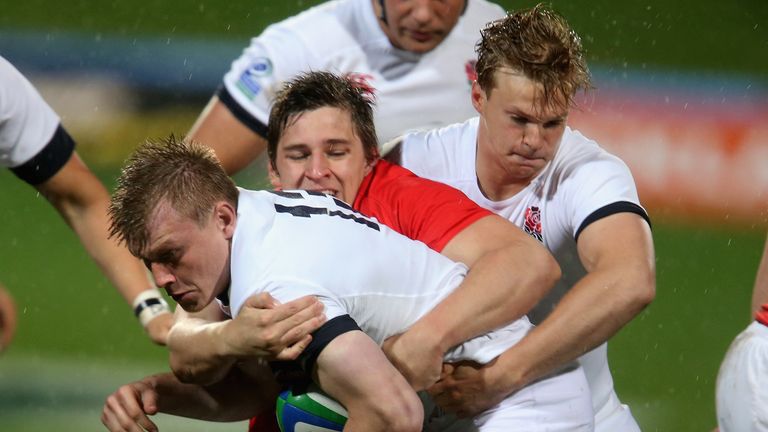 England remain unbeaten at the IRB Junior World Championship after a last-minute 17-16 win over Argentina in Auckland.
The defending champions had been on the brink of a shock defeat in horrendous playing conditions as Argentina moved into a 16-14 lead, however Sam Olver kept his cool to land the match-winning penalty.
It was Olver's fourth penalty of the match, with George Catchpole scoring England's only try of an error-strewn display.
However Patricio Fernandez scored 11 points for Argentina, including the extras to Emiliano Boffelli's 70th-minute try to give England a real scare.
Head coach Nick Walshe will have been a relieved man as England strung together the phases to force the penalty at the death.
Ireland set up a semi-final showdown with England after their 38-0 win over Fiji saw them top Pool B.
Ireland's power proved key as they were awarded three penalty tries, while Ciaran Gaffney and Conor McKeon also crossed.
Wales, who lost to England in last year's final, bowed out with a 13-3 victory over France.
Scotland suffered a heavy 54-7 defeat to New Zealand in their final pool game. The win was enough to see the Baby Blacks clinch the final semi-final place and they will now take on South Africa.