Rugby World Cup: Fiji beat Cook Islands to qualify for England opener at Twickenham
Last Updated: 28/06/14 1:45pm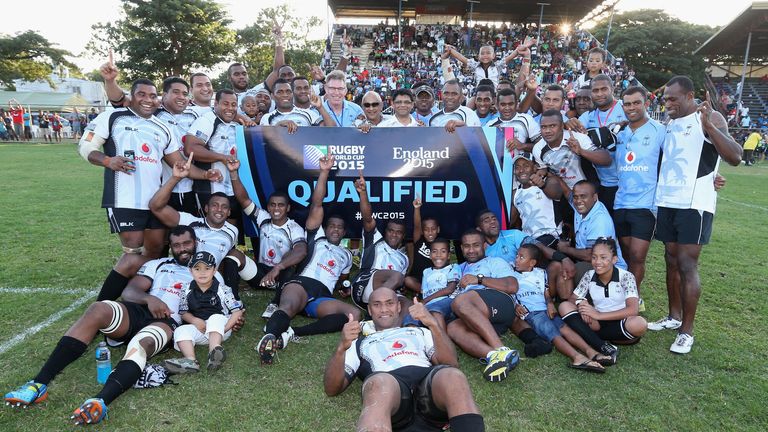 Fiji will play England in the opening game of next year's Rugby World Cup at Twickenham after running in 17 tries in a whopping 108-6 demolition job on the Cook Islands.
The Cooks Islands actually led 6-5 after almost half an hour in Saturday's final Oceania regional qualifying match, as Fiji produced a number of handling errors.
However, the home side soon clicked into gear, with 11 different players crossing the whitewash for tries as the world No 46 side got ripped apart at will.
The reward for Fiji making the World Cup for the seventh time in eight tournaments is a place in Pool A in the tournament alongside hosts England, Wales, Australia and a qualifier.
Fiji also have the honour of opening up the 2015 Rugby World Cup at Twickenham against England.
Centre Nemani Nadolo scored three tries, while Matuisela Talebula, Adriu Delai, Nikola Matawalu and Timoci Nagusa all ran in twice.
Nemia Kenatale, Asaeli Tikoirotuma, Watisoni Votu, Akapusi Qera, Leroy Atalifo and Dominiko Waqaniburotu added to the scoreline with tries of their own.
Massive win
"We knew the Cook Islands would come at us in the forwards in the first 20 minutes," said Fiji captain Akapusi Qera. "We expected that and we managed to compensate and come out with the win.
"It's a big game for us as a team and as a nation. It's a big thing for a rugby player growing up to qualify for the Rugby World Cup and that's what motivated us in the second half."
Cook Islands captain Stan Wright admitted his team were outclassed as Fiji inflicted their heaviest ever international defeat on them after 13 second half tries.
"As you can see by the scoreline it was a hard game and we were simply outclassed by a better side," Wright said. "The gap between the elite and us showed out there today and we've got quite a bit of ground to cover to get up to their level.
"We're not a big nation and we need more guys putting their hands up to play for the Cook Islands because we lack depth and we need more players."