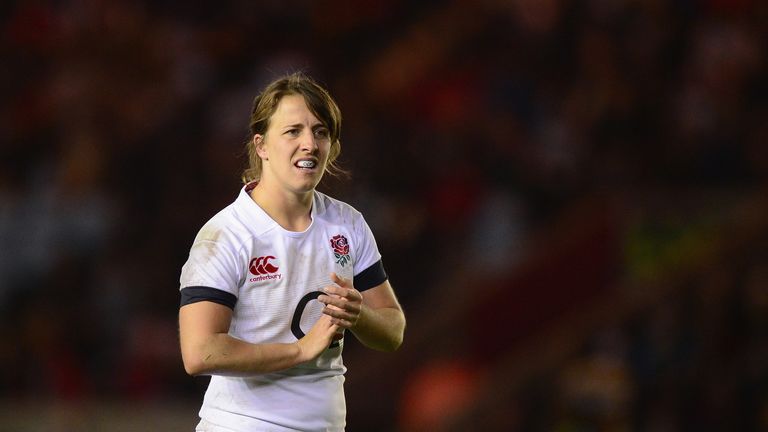 Katy McLean says the mood in England women's rugby squad is positive ahead of the World Cup.
The tournament gets underway in France on August 1 and will be live on Sky Sports.
England have lost the last three finals – all to New Zealand – but McLean, who will captain the team and team-mate Sarah Hunter are not dwelling on the past.
"Morale is absolutely fantastic," McLean told Sky Sports News. "We had a really good training block. The girls have been in a really good place and we are in really good shape. Now it's all about the small details and getting those bits right before we head.
"I'm getting nervous about it but we've been here before. I've lucky enough to have been in a World Cup in 2010. It's really nice to get the opportunity to go to another one."
"Our aim is to go to France and hopefully perform and bring home that trophy," added Hunter. "We are in a good place as Katy says. We have been in camp since January every month and for the last couple of weeks we have been with each other pretty much full time. 
"We have had fantastic support from the RFU to be able to do that. The training is going really well we are putting that small detail in place. Week on week there is that great burst of excitement developing.
Hunter also acknowledged the unprecedented interest in women's rugby and says the support of fans will be a massive boost for the team when they are in France.
"You can't underestimate having that support behind you to just lift you when you need to," she said. "The tournament is a long period of time and to know that we have people back home really rallying behind us to want us to go on and perform when we get to France is fantastic to know.
"It really does give you that buzz to go out and perform for them because you know that they are supporting us. It gives you that motivation and drive."
Head coach Gary Street hopes the team can lift the nation's spirits by winning the tournament - something they have not done since 1994.
"We have seen the media coverage increase all the time and we will have some big crowds out there in France, when hopefully we can brighten up people's summer back home," Street said.
"We have had a lot of support from the RFU and one thing we can guarantee is we will give it a good shot.
"We know on our day we can beat anybody, but we have got five games in 17 days, so it is a really physically demanding schedule for everybody at the World Cup and we have to make sure we come out strongest."
"However, there are of course a lot of sides who can win it and the days of just England against New Zealand in the final being a formality are long gone but that is good for the women's game really."
England men's captain Chris Robshaw has given his full support to the upcoming campaign of Katy Mclean's side, 
"All the boys will be right behind England Women this summer and it would be great to see all sports fans in England doing the same," he said.
"Having closely followed the team I know they are very talented and extremely competitive and I can't wait to see them take on the rest of the world in Paris."