Rugby World Cup: England have named a squad of 26 players for next month's showpiece event
Last Updated: 10/07/14 10:10am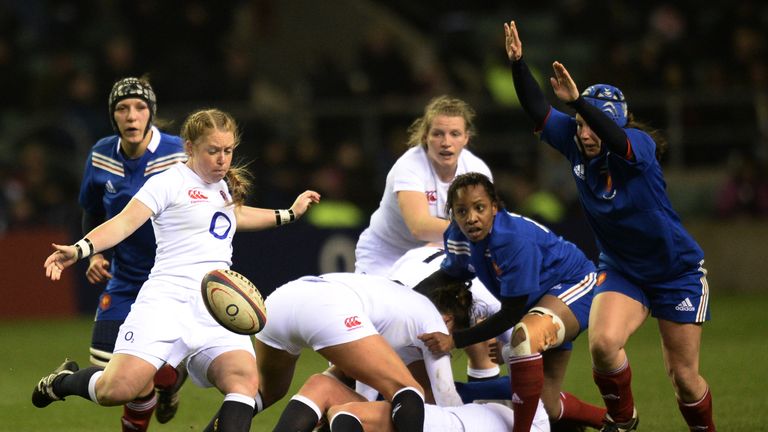 England Women's head coach Gary Street has named his squad of 26 players for next month's Rugby World Cup in Paris.
England, who finished second at the 2010 World Cup in London, will be led by Darlington Mowden Park fly-half Katy Mclean with Lichfield No 8 Sarah Hunter named as vice-captain.
England will have experience in their squad with five players set to compete in a third Rugby World Cup. Flanker Margaret Alphonsi, centre Rachael Burford, lock Tamara Taylor, full back Danielle Waterman and prop Rochelle Clark - the most capped player in the squad with 91 appearances - having played in the 2006 and 2010 tournaments.
Street's squad also includes 12 additional survivors from the 2010 Rugby World Cup whilst nine players are set to make their Rugby World Cup debuts, including the likes of wing Lydia Thompson and backrow player Alexandra Matthews, who has recently returned from injury. In total, the England WRWC debutants will share 219 caps between them.
Street said: "This is a really exciting and strong squad of 26 players going into a World Cup. We'll be heading to France in a strong position.
This is a really exciting and strong squad of 26 players going into a World Cup. We'll be heading to France in a strong position.
Gary Street
"For several players there is disappointment too as they haven't made the squad, but they are world class players who have been a very important part of this process.
"We have a good balance of new, fresh players hungry for their first World Cup experience but also several more experienced heads.
Appetite
"Alex Matthews has nine caps, six of them in wins against New Zealand and although injuries have stalled her progression over the last 12 months, she has come back well in international Sevens and we are excited by what she'll bring.
"At the other end of the scale, we have five players ready to take on their third World Cup. Danielle Waterman, Maggie Alphonsi, Tamara Taylor, Rochelle Clark and Rachael Burford have all been there and done it and they inevitably have a massive appetite to make it third time lucky.
"We now have a couple more weeks of camp time before we leave for France and we'll use this time to look to raise the bar even higher and fine tune the details ready for kick off against Samoa."
England's WRWC campaign gets underway on August 1 against Samoa before taking on Spain on August 5 and Canada on August 9. All the pool games will be played at Marcoussis in Paris and the semi-finals and final, on August 13 and 17 respectively, will be staged at Stade Jean Bouin.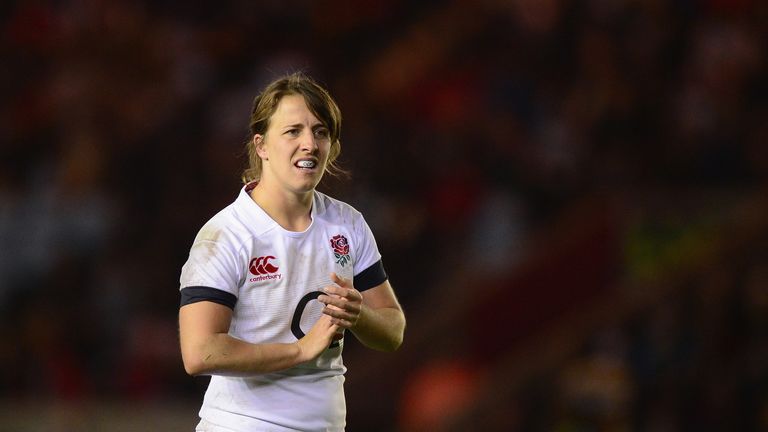 England squad
Backs: Claire Allan (Richmond), Rachael Burford (Thurrock), Natasha Hunt (Lichfield), Ceri Large (Worcester), La Toya Mason (Wasps), Katy Mclean (Darlington Mowden Park Sharks) (C), Katherine Merchant (Worcester), Amber Reed (Bristol), Emily Scarratt (Lichfield), Lydia Thompson (Worcester), Danielle Waterman (Bristol), Kay Wilson (Bristol). 
Forwards: Margaret Alphonsi (Saracens), Rochelle Clark (Worcester), Emma Croker (Richmond), Rebecca Essex (Richmond), Heather Fisher (Worcester), Victoria Fleetwood (Lichfield), Sophie Hemming (Bristol), Sarah Hunter (Lichfield), Laura Keates (Worcester), Alexandra Matthews (Richmond), Joanna McGilchrist (Wasps), Marlie Packer (Wasps), Claire Purdy (Wasps), Tamara Taylor (Darlington Mowden Park Sharks)
England WRWC Fixtures:
Friday, August 1:
England v Samoa, KO 5pm BST, Marcoussis, (Sky Sports 3)
Tuesday, August 5:
England v Spain, KO 2.45pm BST, Marcoussis, (Sky Sports 1)
Saturday, August 9:
England v Canada, KO 2.45pm BST, Marcoussis, (Sky Sports 1)
Read our profiles of the 26 players heading to France this August