Evans - Time to deliver
Max Evans has re-iterated calls that it is time to deliver when Scotland take on Wales at the Millennium Stadium on Sunday.
Last Updated: 10/02/12 3:43pm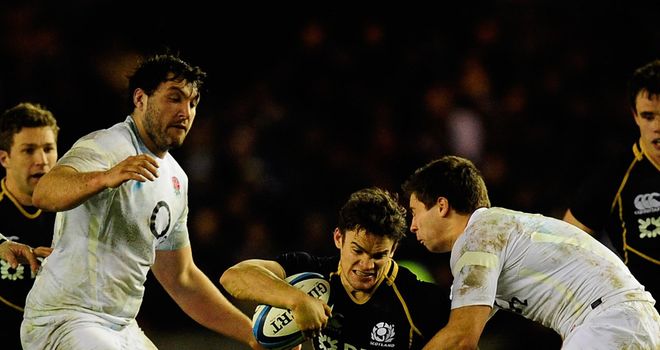 Max Evans has re-iterated calls that it is time to deliver when Scotland take on Wales at the Millennium Stadium on Sunday.
Scotland are aiming for their first win in Cardiff in 10 years as they seek to bounce back from their 13-6 loss to England last time out.
Wing Evans is certain Andy Robinson's men can improve on their showing against England, when chance after chance went begging as the potential of the team was again not realised.
"It's going to continue to be the time to deliver. We need to deliver a good performance," said Evans.
"We've got to keep the confidence we had going into that England game.
"We did put in a good performance and it was just the small margins - get those right and it's a complete performance."
Evans is confident Scotland's profligacy with the try line in sight has been resolved by some focused training sessions.
Addressed
He said: "It's been addressed, so let's hope we get it right against Wales.
"The main thing has been a real clear understanding. We know the pattern we're trying to play, guys know where they're supposed to be.
"We've been setting ourselves up in similar situations as we got ourselves in against England.
"We will get in those positions against Wales. It's knowing the right thing to do.
"Where we might not have gone the right way during the game, we've corrected that in case we're in a similar position against Wales."
Scotland will return to the scene of one of their most devastating losses in recent times, not just in terms of the manner of defeat, but also in the injury toll.
Wales overturned a 10-point deficit with three minutes of normal time remaining to win 31-24 two years ago, with Evans' brother Thom suffering a neck injury, Chris Paterson a lacerated kidney and Rory Lamont a knee injury.
Thom required two neck operations at the University Hospital in Cardiff and saw his rugby career brought to a close after winning 10 international caps.
Feelings
Max Evans added: "It will be interesting to see what the feelings are actually being in the Millennium Stadium and being on the field again.
"But I've always said I wasn't aware of the severity of Thom's injury until after the game.
"My feelings on the pitch were good, with my try and the way we were playing, just that terrible feeling [of defeat] at the end of the game."
Evans believes it will be easier to cope as his sibling is now embarking on an athletics career with the aim of competing at the 2014 Commonwealth Games in Glasgow.
Max, who is set to win his 26th cap on Sunday, said: "It's a lot easier for me to not have that in the forefront of my mind because of how well Thom's doing at the moment.
"It's very exciting what he's achieving at the moment, in terms of his sprinting.
"It's still early days for him, but he's starting to compete and he's in a position where you wouldn't know that he had broken his neck two years ago."