Dodson - We're on a journey
Scottish Rugby Union chief executive Mark Dodson insists he is "very, very optimistic" over the future of the national team.
Last Updated: 13/03/12 1:53am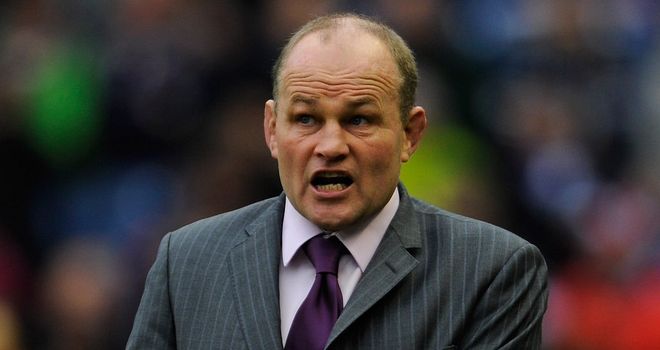 Scottish Rugby Union chief executive Mark Dodson insists the national team are on the right track despite another disappointing RBS Six Nations campaign.
Andy Robinson's side suffered their fourth loss in this year's tournament on Saturday when they went down 32-14 to Ireland.
The defeat in Dublin means Scotland are now looking to avoid ending up bottom of the table - they face Italy on Saturday in a straight shoot-out to see who ends up with the wooden spoon.
Robinson has a contract until 2015 and his position is not thought to be under threat, although a reverse in Rome could increase the pressure on the ex-England coach.
Performance review
"We have a performance review at the end of every tournament, this one will be no different," Dodson said.
"We have got to put all the information into the basket, not just the points on the board.
"Clearly we will be going hell for leather for a win in Italy, but when you look at the players we have brought through this year, the style of play we have been exhibiting, all of that will go into the mix and we'll talk to Andy about it at the end of the tournament.
"But as far as we're concerned we are still very, very optimistic about what we can achieve here."
Scotland have now lost six on the trot stretching back to last year's World Cup, when they failed to reach the knockout stages.
"There is no getting away from the fact that we are not winning games," Dodson said. "I'm not going to walk away from that.
"But when you look at the kind of quality of rugby we're playing, look at the kind of people we're bringing through, this is good news for the future.
"We're on a journey here, this is not going to happen in a day.
"There will be snakes and ladders on the way. We went down a snake on Saturday but we will go up some ladders along the line."
Vital result
Scotland attack coach Gregor Townsend, who leaves his post with the national team to take over from Sean Lineen at Glasgow at the end of the Six Nations, admits a win is vital against the Italians.
Townsend said: "We owe it to the supporters. The players have made huge efforts this season and not got the rewards.
"It was disappointing, the last 20 minutes of the Ireland game. We know we are better than that.
"We have to go out and win the next game for this group to move forward and get what they deserve."