Scotland captain Kelly Brown upbeat ahead of ultimate Test against All Blacks
Kelly Brown believes hard work and a strong start will be vital if Scotland are to challenge the might of New Zealand.
Last Updated: 11/11/12 10:39am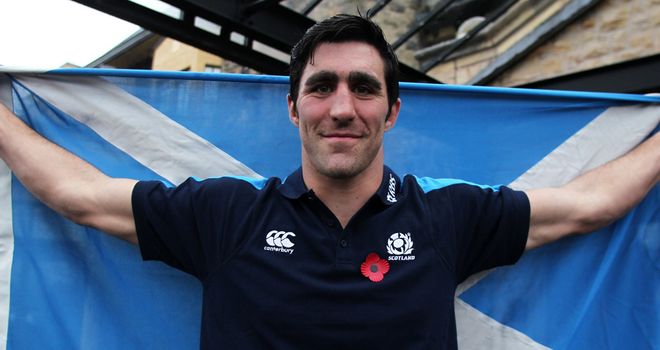 The All Blacks' most recent loss came in August 2011 against Australia in their final match before the World Cup, while they have not been beaten on a northern hemisphere tour since 2002.
Despite New Zealand being overwhelming favourites with the bookies, Brown believes in his team as he prepares to lead Scotland out for the first time in his 50th international.
The 30-year-old Saracens number eight said: "It's a one-off game. We know it's going to be incredibly hard, but it's 15 on 15. We just need to go out there and perform as best as we can and make Scotland proud.
"We've worked very hard. I placed a real emphasis on guys all knowing their roles and knowing exactly what's expected of them in each aspect of the game.
"I feel confident that all our guys have done that. It's now just a case of going out there, doing that and working incredibly hard.
"For us one of the main things is to put them under pressure and to not give them anything easy. In the past in the first half we've probably gifted them a few scores.
"It's about going out there, working hard and making them really have to fight for anything that they get."
No wins
Scotland have never beaten New Zealand, drawing twice in 28 Tests, while since Brown's international debut the sides have met four times and Scotland have scored 19 points in total, to their opponents' 160.
The All Blacks won the most recent fixture 49-3 at Murrayfield two years ago.
New Zealand suggested they had not even checked the Scotland team 48 hours before kick-off, although Brown insists that does not smack of arrogance.
"They're the world champions and they've decided to focus on themselves," he added. "That's entirely up to them. They've got the results to back it up.
"It's just up to us now to us now to make sure that we put them under pressure. We know what we've got to do. We've got a plan of how we want to start the match. It's now just a case of going out there and implementing it."
"It's very strong as we always knew it would be. Whatever side they put out will be very, very tough.
"They are fortunate that in their country they have probably got 50 or 60 international-quality players, so any team they ever put out will be very strong, but we're looking forward to it."