Colin Gregor claims there is a new confidence in the Scotland Sevens squad
Colin Gregor insists Scotland will head to the Las Vegas Sevens full of confidence.
Last Updated: 07/02/13 10:29pm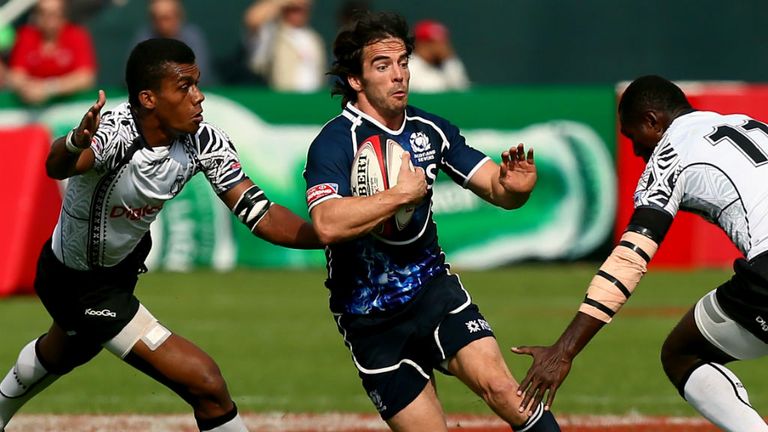 Scotland made their first appearance in the cup quarter-finals in more than two years at the New Zealand Sevens - having recorded a memorable victory over Fiji in the pool stages.
Gregor said: "Before heading out to New Zealand we had a really decent training block at Ravenscraig, out of the Scottish winter weather, which had us in good shape.
"There has definitely been more confidence throughout the squad and we hope we will keep up momentum on Friday, Saturday and Sunday, in the fifth leg of the circuit."
Scotland will renew rivalries with England - who won the title in Wellington - at the Las Vegas, while they have also been drawn alongside Fiji and Portugal.
Dangerous
"We know all three teams pretty well having played them all a few times this year, and with that in mind we're familiar with the threats they pose," said Gregor.
"Portugal are a strong team who fight for every scrap and are really difficult to break down. When they have the ball they are very adept at keeping it and have added a dangerous offload game to their attack.
"Fiji are still one of the top teams in the series. Individually they are a different class with some big runners who are still very swift on their feet and others who are incredibly evasive. We need to play as a team against them, defending together and limiting the space they get.
"When we have the ball we need to be patient and work through phases as their defence gets frustrated and can lead to indiscipline. We can then exploit this.
"Lastly, England have pace throughout their team and, similar to Fiji, are very dangerous off turnover ball."
Scotland Sevens: James Johnstone, Michael Fedo, Struan Dewar, Christopher Dean, Colin Gregor (capt), Mark Robertson, Andrew Turnbull, Colin Shaw, Scott Riddell, Michael Maltman, James Fleming and Russell Weir.