Six Nations: Scott Johnson says Scotland can win the championship
Scott Johnson declared Scotland are contenders for the Six Nations crown after their 34-10 victory over Italy
Last Updated: 09/02/13 7:31pm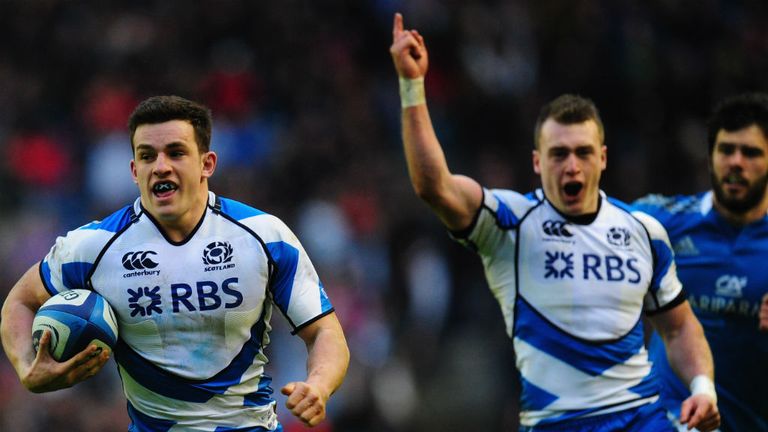 Scotland ran in four tries with Tim Visser, Matt Scott, Stuart Hogg and Sean Lamont all crossing for the hosts against an Italian side that upset France in their opening Six Nations clash last weekend.
Johnson's side bounced back from their 38-18 defeat to England at Twickenham last Saturday and Scotland's interim head coach is optimistic about their prospects for the rest of the tournament after dispatching Italy with ease.
Johnson said: "We are really happy with the scoreboard and who wouldn't be? But we are in a championship and we want to win the championship.
"Whilst there were some really good things in that game and much improvement in areas we needed to improve in, there is still plenty left out on that pitch."
The Australian added: "We did really well in the defence for most of the game and there was a real turning point when Hoggy took it from one end of the field to the other, which was really a 14-point turnaround.
"But the events that occurred just beforehand were disappointing. The scoreboard could have changed really quickly.
"We have to acknowledge that but I keep saying if we get our part right, we can put sides away from some distance because we have a potent back line.
"We just have to keep doing our work. We have to keep improving. We're in a tournament and today's result puts us right in it. We're in this."
Scotland captain Kelly Brown was delighted with the fight shown by his players as they won their first Six Nations game for almost two years.
"We said last week after England that they won all the one-on-ones but it felt out there that we fought hard and worked hard as a side," Brown said.
"My overriding emotion is pride. We knew after last week we needed to bounce back and I felt we did that.
"But it's only the start. It's only one game and it's up to us to make sure we learn from this match and on our next outing are even stronger."
Italy coach Jacques Brunel was disappointed with his side's defending but brushed aside claims he had taken too many risks with his tactics.
"I think that's the price we pay to keep on growing," he said. "Today we certainly paid a high price.
"The Scots defended really well and there were many issues with our speed and defence throughout the game as well.
"We played in such an individual way, now we have two weeks to try to understand and come back for the Wales game."