Scrum-half Greig Laidlaw insists Scotland are targeting Six Nations title
Greig Laidlaw says Scotland are "desperate" to beat Ireland at Murrayfield and then challenge for the Six Nations title.
Last Updated: 22/02/13 1:47pm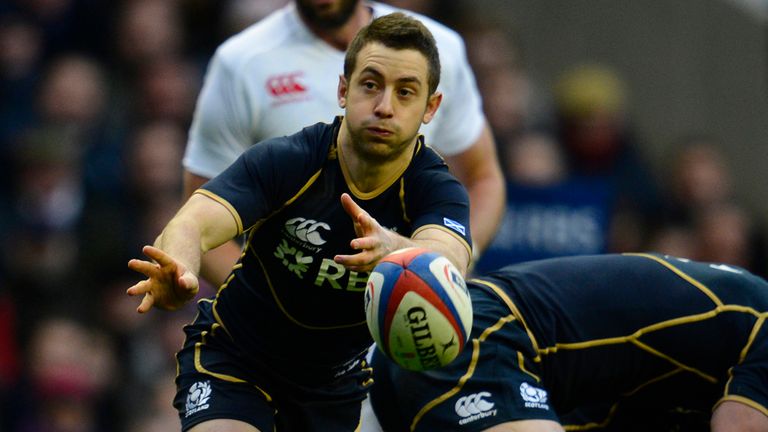 After defeat to England in their Six Nations opener, the Scots bounced back superbly to beat Italy a fortnight ago.
And Edinburgh star Laidlaw says the Scots are not just planning on beating the Irish, but challenging for the title too.
"It's everybody's goal to win the tournament. Everyone wants to win the Six Nations. That's why we are here. We are where we are. We have won one game. Now we want to win a second," he said.
"We don't have a good record at home to Ireland in recent years but we want to change that, that's for sure. We desperately want to win on Sunday and start improving on that record.
"They had a very good win against Wales, with some class play from some class players. Then they had a tough one against England, it was played in some poor weather. A few things went against them and slippery ball doesn't help.
"We know the challenge that will be coming here this weekend and it's one we want to overcome. They have got three brilliant teams and one good team in Connacht in terms of provinces.
"They have a lot of good players to pick from, so it doesn't matter if there are injuries, there are good players to come in and those who do will be trying to prove a point to the coach that they should be the starters."
"It was great to win the game against Italy and now we have got to use that as a springboard. Coming off the back of a good performance, it's now about building another good show.
"But Scott has been telling us that that game is finished. Let's now try and improve on little bits and move on.
"That's his philosophy; the things we did well against Italy, do them even better this weekend. The things we didn't do too well - and there were a couple of things - do them better as well and give ourselves a chance of winning the game."