Sean Lamont says only a perfect Scotland performance will see them beat Wales
Sean Lamont says Scotland cannot expect any favours from Wales as they bid for a third successive Six Nations win.
Last Updated: 09/03/13 2:17pm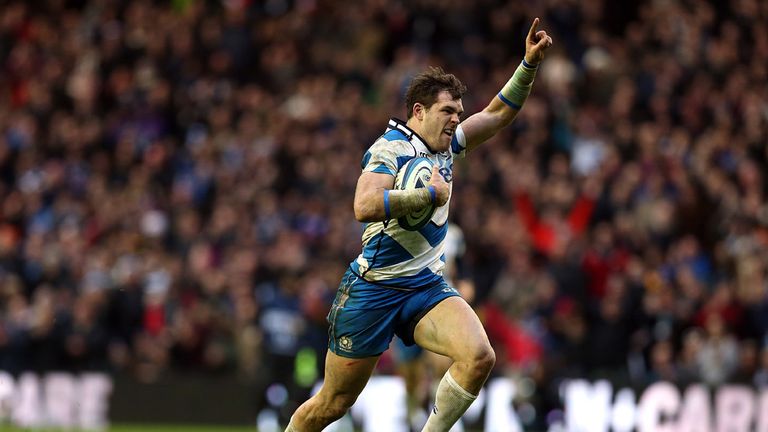 Scotland claimed a 12-8 victory over Ireland a fortnight ago but were indebted to some poor finishing from Ireland as they spent large parts of the match defending their line.
Dark Blues centre Lamont expects a far more ruthless display from this weekend's visitors to Murrayfield and knows only a perfect Scotland performance will be enough to see off Wales.
He said: "Against Ireland, we were lucky at times. They bombed a couple of chances.
"But I want it to be more than just luck this weekend. I want it to be us doing everything right - us making no errors. That's the only way we are going to beat Wales."
Lamont, still feeling the pain of last year's wooden spoon finish, added: "We don't want this to be a flash in the pan, we want this to be something that will snowball. We've got to keep it going for everybody's sake.
"This is certainly a lot less stressful than this time last year, that's for sure.
"Rugby is always a damn sight more bearable when you are winning than when you are losing every week. It's not a nice sport when you are being beaten all the time.
Injuries
"Everything hurts more, injuries take longer to heal up - or at least that's the way it feels.
"So we are in a good place right now. But nothing counts unless you can back it up."
Scotland followed their tournament-opening defeat to England with wins over Italy and Ireland but there was cause for concern in the defence in each of those matches.
Defensive coach Matt Taylor said: "As a defensive coach, there were a number of situations against Ireland I was unhappy with, such as players falling off tackles.
"But the one thing I will say was that our ability to scramble and ability to get back and regroup was fantastic. That says a lot about the group and their commitment to one another.
"We have had to work hard with that. It hasn't happened overnight. It's been a process since we got here in the autumn. The guys are starting to buy into the system and it's paying dividends.
"But the scramble is not the type of thing we can do game after game.
"Against Wales, we now need to make sure we make those one-on-one tackles, especially against their big guys, or we'll put ourselves under a lot of stress."