Six Nations: Scotland interim coach Scott Johnson looking forward to set-piece against France
Scotland interim coach Scott Johnson is looking forward to the set-pieces in Saturday's clash with France.
Last Updated: 13/03/13 5:11pm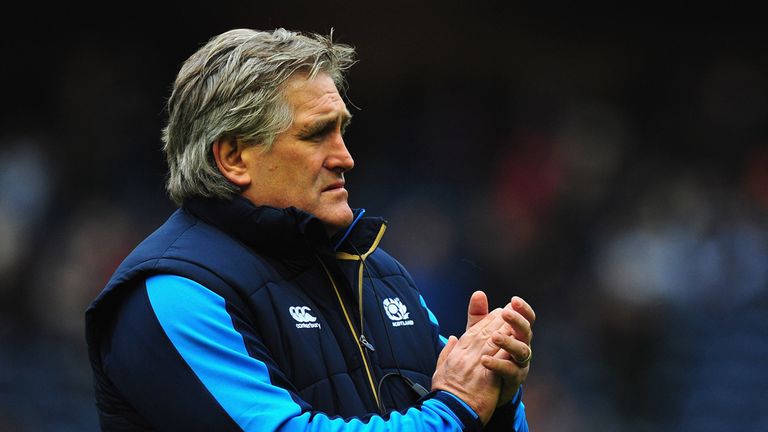 Johnson takes his men to Paris looking to leave Philippe Saint-Andre's team without a victory in the 2013 competition, but believes the hosts are one of the more respectable teams when it comes to scrum time.
The Australian said: "Here we are, finally, getting to round five of the tournament - round five - and we have finally got a team that wants to scrum. We've finally got one.
"I can't wait, bring it on. A quality opposition against a side who wants to be competitive at the scrum rather try to spook referees and play games.
"We have refused to do that and consistently we get penalised. It's the bane of my existence."
Scotland have lost lock Richie Gray to injury, meaning a start for the promising Grant Gilchrist - and Johnson has opted to field Al Strokosch at flanker in place of Rob Harley.
Johnson added: "The loss of Richie has given us the opportunity to play a lad that we think is one for the future. I've got a lot of time for Grant Gilchrist.
"He provides a bit of impetus that I think Scotland are missing. he's a big, tough kid and we're really looking forward to playing big, tough opposition.
"Al Strokosch comes in because we feel he knows the game a bit in France but also because he brings a maturity that we feel we need around the forward pack.
"We would have liked to have got Gilko in earlier. The fact is that we haven't been able to - he's been injured. But there's part of me that thinks I have got to get some mileage on the clock with this lad if we are thinking about going forward towards the World Cup.
"So if we didn't do it now, we would miss an opportunity, and this is a perfect opportunity to start the lad and against some quality opposition. We didn't want to half cook this. We can't buy this opportunity.
"We're not expecting him to go out and not do the job, by the way. We have got full confidence in his ability. Probably in two years' time, everyone else in the world will. We have got high hopes for him."